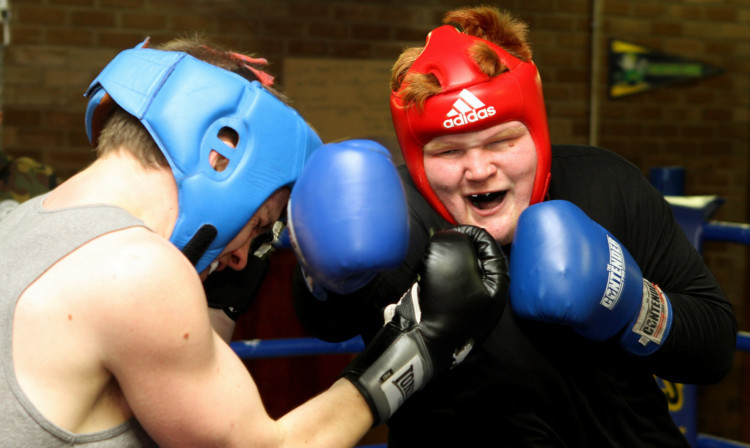 It's called the sweet science but has a reputation as the most brutal and damaging sport of all. Jack McKeown looks at the first-time boxers who'll be taking part in Dundee Fight Night.
Blood and sweat. Lochee's boxing gym is redolent of it.
The Dundee fight club is buzzing with fledgling pugilists. They punch the air, toil through press-ups and sit-ups, whale away at heavy bags, and tear into one another in the ring.
Fans of Rocky and Million Dollar Baby will recognise the club's spit 'n' sawdust approach to the fight game.
The floor is wood-on-concrete, the walls bare brick. Its equipment punchbags, chin-up bars, and the iconic squared circle are old and careworn but still more than serviceable.
The brick walls are papered with posters and cuttings of famous fighters from today and yesteryear.
Current pound-for-pound king Floyd Mayweather lands a punch flush on an opponent's jaw. Fast but fragile British former world champion Amir Khan is captured throwing a dazzling combo.Click here for a full photo galleryOnce the "baddest man on the planet", Mike Tyson, emits the menacing stare that robbed his opponents of their courage long before his fists stole their senses.
And the greatest of them all, Muhammad Ali, is young, vital and magnificent.
There's no heating in Lochee Boys Amateur Boxing Club (to give it its full title) and on a wintry evening it's cold enough to feel like the interior of a fridge.
The chill doesn't affect the 20 or so fighters who are sheened with sweat as they train until their bodies shudder and gasp.
Each one of them is preparing for the biggest fight of their lives.
On Friday April 25 they will be paired off against one another at Fight Night, taking place in Dundee's Caird Hall.
Under ordinary circumstances it takes up to a year to prepare a boxer for their first fight. None of these pugilists had ever laced up a pair of gloves before January. By Fight Night they will have had three months to get ready for the ring.
The event is organised by Paul Arnold (37), a graduate and former sports union president of Dundee University. The Irishman got into boxing around two years ago and has organised Fight Nights in Glasgow and Edinburgh.
"I got into it when a good friend of mine was fighting in Belfast," he explains. "I went along to support him and it was one of the best nights I'd had in years.
"A few beers and watching your best mate get punched in the face it was marvellous!"
Paul has competed in two Fight Nights himself so he knows what each of the fledgling fighters will be facing: "It's the toughest six minutes of your life," he says. "The overall experience was terrifying, exhilarating and exhausting.
"However, they were also among the best nights of my life and it helps that I won both my fights."
The boxers will fight three rounds of two minutes' duration, with the referee calling the contest by raising the victor's hand at the end assuming there hasn't been a knockout.
Spectators at the glitzy event will enjoy a drinks reception and meal along with their 12 bouts of boxing in the grandeur of the hall where The Beatles once played.
The proceeds will be split between local community rugby clubs, The Bill McLaren Foundation and Paul's own company to be reinvested in further Fight Nights.
All professional fighters dream of a bout in one of boxing's most hallowed venues New York's Madison Square Garden, Caesar's Palace in Las Vegas, or a giant stadium venue.
The amateur pugilists will duke it out in Dundee's most prestigious public space.
"It's quite amazing," Paul continues. "I've spoken to quite a few very decorated amateur boxers with hundreds of big fights between them and none of them ever had the chance to box in the Caird Hall.
"They all said they would have killed for the opportunity."
Scotty Cunningham is the event's chief trainer. The 36-year-old enjoyed a 37-fight amateur career as a featherweight. He may be retired from competitive fighting but his skills are still razor-sharp.
His hands flicker as he throws out jabs, hooks, crosses and uppercuts. His head and shoulders bob and sway as he dodges imaginary punches.
He's up on the balls of his feet, making constant minor adjustments to his stance and position.
Paul says sparring with Scotty is like fighting a ghost.
He's just impossible to hit," he says. "You throw a punch and by the time it gets there he's gone. And no matter what you do he can hit you virtually at will with almost any kind of punch.
"Sparring with him just makes you realise what a gulf in ability there is between people new to the sport like ourselves and a proper fighter."
Club secretary Brian Howett recalls: "As well as being quick, Scotty was always very resilient. He was never knocked out in his career.
"I remember Scotty was once fighting in Aberdeen against a guy who was on his last amateur fight before turning pro.
"The crowd were all cheering for the other guy. Scotty was very much the underdog. The guy came on strong, caught Scotty flush, and dropped him to his knees. The crowd were on their feet, cheering him on for the knockout.
"The guy walked in looking to finish it but he was careless and Scotty sparked him. Knocked him clean out."
During the hour that they train, the pupils are kept very busy indeed. They rotate between fitness drills with Scotty, heavy bag punching and sparring, overseen by Danny Fugaccia, an active 26-year old amateur boxer with a 12/3 record from his 15 middleweight fights.
Fighters need to commit to training at least twice a week for the 14-week build-up to Fight Night. If their attendance record drops below 80% they are removed from the contest.
A few women signed up for the event but they all dropped out after the first week's training.
One of those who will step between the ropes on April 25 is Robert Barr. The 29-year-old is a solicitor at Dundee-based firm Thorntons and specialises in agricultural law.
Signing up for Fight Night was the culmination of a fitness drive, he says: "Having a desk job, I was aware that I wasn't getting enough exercise. I signed up for the Tough Mudder and got in shape for doing that."
The near half-marathon length race sees teams of participants tackle obstacles including walls, mud, ice pools, underwater tunnels and even electric shocks.
"After the Tough Mudder I did the Spartan Trifecta, which is a set of three events ranging from five to 20 kilometres. I wanted something that would challenge me to get even fitter.
"A girl at work knows Arnie (Paul Arnold) and he was looking for people to take part in Fight Night at the time."
Robert has to break off from his interview with The Courier because it's his turn to spar. He slips on his headgear and steps into the ring.
He boxes two rounds against two opponents. He dominates the first, but the second is much closer. This opponent is stocky and heavy-set. No matter what Robert tries he's driven inexorably back towards the ropes.
The round ends with flurries of punches from both sides as the fighters attempt to finish on a high note.
Robert slips out between the ropes and drops down to floor level. His chest heaves as he takes in great gulps of air. Blood streams down his chin from a split lip.
And a big grin overlays his face.
"That was tough," he gasps between breaths. "I'm usually the one who's the aggressor but I just couldn't budge that guy. He kept driving me back and I was trying to counterpunch."
Remarkably, the fighters were thrown into the ring in only their second week of training. "It was really soon," Robert recalls. "The first week they showed us the basic techniques then the next week they got us straight into sparring.
"The first time I did it I had butterflies. And the next week I got clocked pretty hard on the chin and was dazed. They made me take a few weeks off sparring but now I'm back and I love it.
"It's obligatory to do two sessions at the boxing gym every week but I've been coming to all four."
Ryan Milne (32) works offshore as a well test engineer. His father Graham was a talented boxer and the 6ft 4in 108kg giant wants to see if he has inherited some of his dad's abilities.
"The training has been good for me," he says. "I was 119kg when I started doing this so I'm already in much better shape.
"When I'm offshore I go running on the rigs as much as possible. I used to play a lot of rugby so I'm used to broken noses and taking hits.
"The hardest part of it is trying to remember all the techniques when somebody is hitting you. Keeping your hands up, your chin tucked down, and looking up through your eyebrows at your opponent isn't easy when someone is swinging punches at you.
"Stamina will be the main thing, I think. Remembering to breathe and stay level-headed no matter what's happening."
At 21, Murdo McDonald is the youngest pugilist. The barman and grocer already has one hobby which seems quite at odds with the pitiless brutality of the boxing ring.
"I'm a member of Brechin Amateur Operatic Society," he explains. "Two nights a week I do musical theatre and two nights a week I come here and fight.
"Boxing has been great for fitness I've dropped from 13 stone last year to 10 stone 10 now. Sparring is fantastic. I've broken a knuckle and been dropped by a body shot before but I keep getting up.
"The more you do it the more the adrenalin levels rise. I'm not sure that my technique is everything it could be but I'm hoping that my fitness will be enough to see me through."
It seems like a good enough strategy. But as Mike Tyson once said, everybody has a plan until they get punched in the face.
Dundee Fight Night takes place on Friday April 25 at the Caird Hall, Dundee. For tickets and further information go to www.dundeefightnight.co.uk.