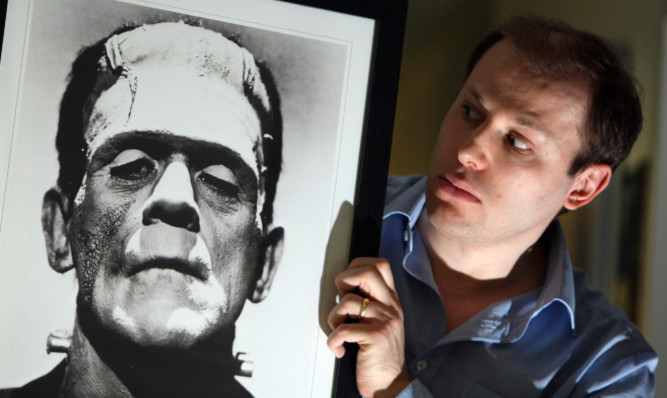 Frankenstein's monster is being brought back to life in Dundee.
Author Mary Shelley, who lived in the city, will be celebrated in a series of events.
Hosted by Dundee University, Mary Shelley's Dundee: Re-animating a City, will take place as part of Being Human 2015, the UK's national festival of the humanities.
The programme includes the production and exhibition of an original comic, theatrical adaptations and film screenings that will explore Shelley's teenage years in Dundee in the 1810s.
They will consider the ongoing impact of her best-known novel, Frankenstein; or, The Modern Prometheus (1818) on artists, writers and film-makers.
Dr Daniel Cook, lecturer in English at the university and organiser, said: "Frankenstein is one of the most important works in the English language, one that continues to stimulate debate about both literature and the philosophical questions the book raises.
"We still hear about 'Frankenfood' and 'Frankenscience', showing how the ethics of science and the public perception of scientific progress in fields such as food production and human reproduction are influenced by this remarkable book.
"This is a way of highlighting the role that the humanities can play in understanding and addressing the issues that the fast pace of technological change raise, such as what it actually means to be a human."
"We look forward to bringing new attention to the life and works of Mary Shelley, the mother of modern science fiction, at a time of substantial civic and creative regeneration taking place in a city that she says stirred 'the airy flights' of her young imagination."
The series begins with a reading of The Last Man and a special film screening of The Bride of Frankenstein at the university today and culminates with a comics workshop and exhibition at The McManus: Dundee's Art Gallery and Museum later in the month.
The university's Dr Chris Murray, director of the Scottish Centre for Comics Studies, has worked with students to produce a new comic entitled Frankenstein Begins, chronicling Mary Shelley's time in Dundee and how it inspired her.
He has also written a play telling the same story, to be performed at the Little Theatre on Friday November 20.
Dr Murray said: "The comic we are creating as part of the Being Human Festival explores Dundee's impact on Mary Shelley."