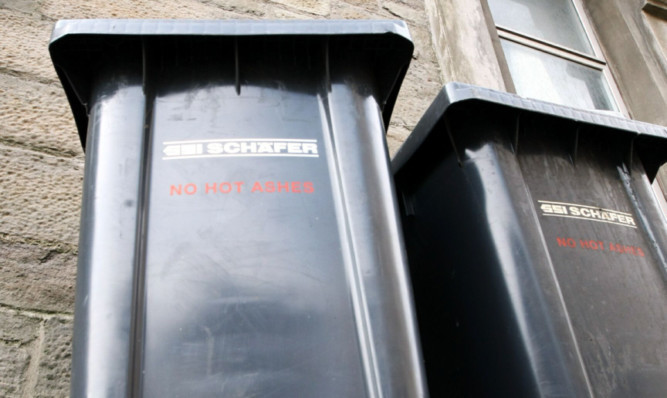 Fines of up to £1,000 await any Dundee residents who refuse to take in their wheelie bins, The Courier can reveal.
City chiefs will hammer householders using tough new powers, with elected members welcoming the chance to show the local authority "has teeth".
The powers to fine repeat offenders were described as "long overdue" at a high-level meeting at which councillors agreed to move forward with plans to prosecute bad neighbours.
They believe the new legislation will enable them to better police communities and protect householders whose home lives have been blighted by the problem for years.
Officials have been in talks with the procurator fiscal service to ensure cases that escalate to a criminal level are treated seriously.
It will then be up to the Crown to assess the level of fine levied on a "case-by-case" basis.
While councillors believed that financial penalty would be around the £60 mark, it has emerged that the council cudgel could strike a far more serious blow to the wallets of bad neighbours with fines of up to £1,000 available under the legislation.
While few residents are unlikely to ever face such a fine, it is evidence of the strength of the powers the local authority has been granted.
The effects of the new legislation may be most keenly welcomed in areas such as the west end and the city centre, where there are large numbers of tenant properties and houses in multiple occupation (HMO).
West End councillor Richard McCready said the powers would be used to target "repeat offenders who refuse to give consideration to their neighbours and communities".
"We must make it abundantly clear to the procurator fiscal that they must treat this matter as seriously as we do because it could make a huge difference to the lives of people across Dundee."
Fellow ward councillor Fraser MacPherson said: "This has been a long time coming and it is to be greatly welcomed.
"These powers will enable the council to show that is has teeth when it comes to addressing this problem something it has not been able to do in the past."
The new powers will come into effect immediately.
The first step for council officers will be to speak to offending householders.
Rigorous checks will establish if the oversight is due to issues such as holidays, nightshift working, illness or the age of owners.
Repeat offenders who simply do not care to take their bins off the city's streets will be hit with warning letters, formal enforcement notices and finally a report to the procurator fiscal.
Councillor Ken Lynn said the issue of leaving bins out on the streets had long been a matter of annoyance, both personally and to the residents within his Maryfield ward, which includes much of the city centre.
He told colleagues they were a blight upon communities, affecting quality of life for many people in a number of important ways.
"This is legislation that we have wanted for so long and I look forward to seeing it enacted on the streets of Dundee," he said.
"Bins seem to sit out day in, day out, week in, week out, sometimes for what seems like forever, and things have to change. These bins can be a serious hazard to people with disabilities, visual impairments and young children and they look unsightly too."
The council will be looking to take steps to mark bins, particularly any new bins, to ensure owners can be easily identified.
It does not, however, have any plans to follow in the footsteps of some English local authorities, which have gone so far as to microchip their bins.
Efforts will be made to notify landlords if tenants and HMOs have fallen foul of the new powers to ensure that they can take appropriate action against inconsiderate renters.