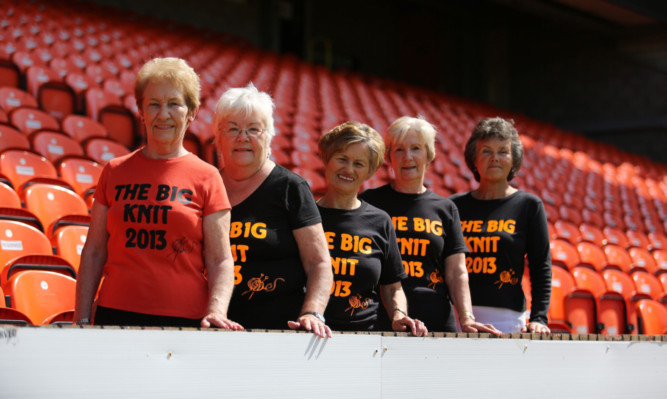 The game is on to find more than 3,100 people to knit together at Dundee United's Tannadice Park to help break a world record.
The Big Knit 2013, which aims to smash the record of 3,038 people simultaneously knitting, has now been officially recognised by the Guinness Book of Records.
Norma Duncan of Monifieth hopes the event will put Dundee on the map as the knitting capital of the UK and she has been overwhelmed by the support she has received so far.
More than 5,000 people have now taken an interest in the bid, with even politicians, footballers and celebrities adding their backing.
Dundee United got involved, offering the use of their stands for free, after Norma's plea for a venue that would hold them all.
Lord Provost of Dundee Bob Duncan has been practising his stitching ahead of the event and TV personality Lorraine Kelly has also given her support.
She said: "It's a terrific idea and I know lots of people, especially United supporters, will make sure it's a huge success.
"It's in aid of a really important cause and I wish them all the best."
Norma said: "The Big Knit 2013 has really taken off way beyond what I thought would happen. I'm sure the numbers will be there. The response is just incredible and the leaflets and posters are being circulated all over.
"I have received dozens of emails from interested knitters, and my Facebook page is getting responses and comments."
The big event, which will also help raise money for a local Alzheimer charity through a collection at the stadium, will be held on Sunday September 8. Doors will open at 2pm with the knit-off at 3pm.
To contact Norma and get involved, email Thebigknit2013@yahoo.co.uk.