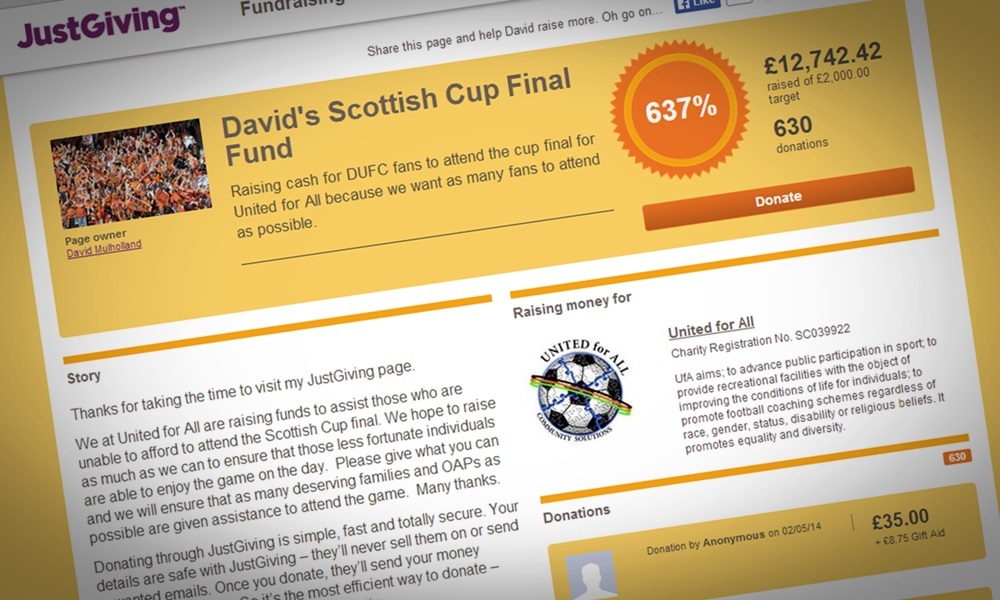 A campaign to help less fortunate supporters get to the Scottish Cup final has captured the imaginations of fans across the country, with over £12,000 raised in a matter of hours.
United for All set out to raise £2,000 to pay for tickets for those who can't afford the £35 asking price for the May 17 match between Dundee United and St Johnstone.
There have been complaints about the relatively low number of concession tickets available for the final. Dundee United chairman Stephen Thompson is among those who have criticised the SFA for not issuing more reduced-price tickets.
That led fans to take matters into their own hands with stunning effect.
As well as scores of United fans, supporters of other clubs including city rivals Dundee, cup final opponents St Johnstone, Celtic and Aberdeen have all donated. Many have left messages praising the campaign and saying they wanted to donate to send a message to the SFA.
The online Just Giving page, set up by organiser David Mulholland, was flooded with donations throughout the course of Thursday, and sits at an incredible £12,600 on Friday morning.
The total has been boosted by an anonymous donation of £1,000 and £3,000 from the Federation of Dundee United Supporters' Clubs.
In his appeal, David said: "We at United for All are raising funds to assist those who are unable to afford to attend the Scottish Cup final.
"We hope to raise as much as we can to ensure that those less fortunate individuals are able to enjoy the game on the day.
"Please give what you can and we will ensure that as many deserving families and OAPs as possible are given assistance to attend the game."
UFA aims to advance public participation in sport and provide recreational facilities and football coaching schemes.
To donate visitwww.justgiving.com/cupfinalfund.
One contributor posted: "This is what I love about DUFC. Every single supporter deserves to be at this year's final."
Another added: "Happy to help fellow arabs wishing to attend the final but struggling financially due to this clever pricing scheme thought up by the SFA."
And in an impressive show of unity, a Dundee FC fan donated and posted: "As a Dee I am proud to go along with my fellow Dundonians to the final as I was at Ibrox and I will be at Dens this Saturday. Best city in Scotland!"
Fans of other clubs soon started to support the effort.
One posted: "I am a Dunfermline Athletic fan, during our recent troubles we had support from Utd fans, my way of thanking them and providing some small payback."
And another donated before posting: "Celtic fan here. Cracking gesture and what football should be about."
Showing how the appeal has spread online, another fan said: "Can't make it over from Australia for the final having just visited in March/April but more than happy to help another Arab make it along for the match! Never been more #P2BAA (Proud To Be An Arab)."
It is just the latest development in a remarkable week for football fans in the area.
United, Dundee and St Johnstone fans have all been rushing to buy tickets as the season reaches an exciting conclusion for Courier country clubs.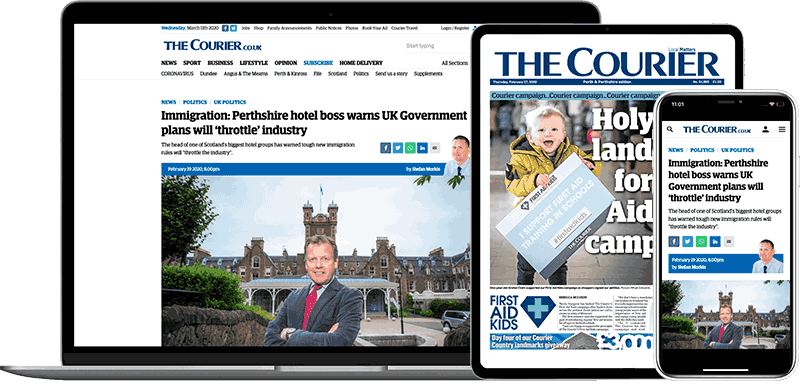 Help support quality local journalism … become a digital subscriber to The Courier
For as little as £5.99 a month you can access all of our content, including Premium articles.
Subscribe