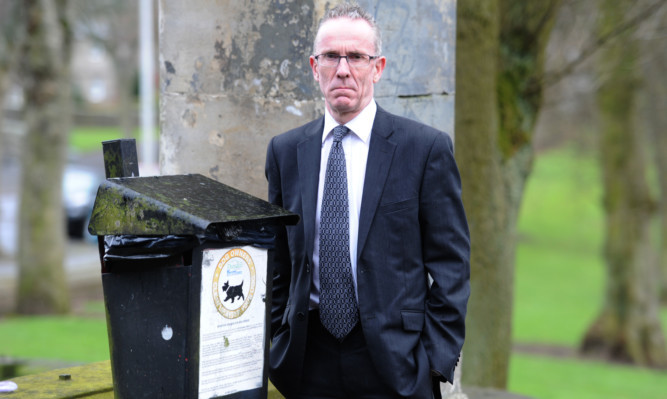 Legal action could be the next step as Dundee City Council cracks down on the irresponsible pet owners responsible for dog fouling.
The local authority is to open talks with the procurator fiscal to discover whether it can go after the bank accounts of those who fail to pay fines.
Bank arrestment is already used to recover major debts, such as rent arrears, but is rarely used in connection with smaller sums.
As the fixed penalty for failing to clean up after your dog increases to £80, however, such measures may become viable.
The tough action is being explored in the wake of figures which show that almost 60% of dog fouling fines issued over the past two years remain unpaid as do the vast majority issued in 2012, 2013 and 2014.
Dundee has an enviable reputation for cleanliness and the relatively lownumber of penalties handed out is said to indicate that the majority of owners pick up after their dogs.
Nonetheless, councillors across the city receive complaints on a regular basis about those who fail to "bag it and bin it" and so blight the communities in which they walk their pets.
Some have raised concerns that the problem could escalate as the council cuts back on street cleaning and green-space services to make budget savings.
The Courier reported last month appeals to have additional dog bins introduced in the city's Strathmartine area had fallen on deaf ears amid claims the city council did not have sufficient staff to empty them.
Councillor Fraser Macpherson, who represents the West End ward and has raised concerns over areas such asBalgay Park, said tougher action is needed.
He said dog fouling was "unwelcome, unhygienic and anti-social" and should not be tolerated.
He went on: "Since receiving these figures, I am advised that just one of the outstanding 2015 fixed penalties has since been paid and so I have been indiscussions with the city council about additional ways of ensuring that all fixed penalties are paid and paid promptly.
"Recovery via bank arrestment is an obvious route to consider where a fixed penalty is ignored, and the increase in the amount of the fixed penalty to £80 not only acts as a better deterrent against dog fouling but also gives local authorities more options to ensure full recovery of penalties raised.
"Constituents rightly view dog fouling as disgusting and anti-social behaviour. There is absolutely no excuse for not 'picking up' after your dog and it's clear that constituents support the fixedpenalty increase and the council taking strong action to recover all penalties."
In a letter to Mr Macpherson, Dundee City Council's head of environmental protection, Gary Robertson, said: "We shall be approaching the procuratorfiscal's office to discuss and establish if there are any other options open to us as regards seeking to secure a conviction against non-payment."
Mr Macpherson said: "It is important the council takes this issue seriously."