A 92-year-old line dancer who performs annually in a cage at Coco Bongo nightclub in Cancun has been showing off her moves on her return to Dundee.
Flora Murray, nee McDonald, has been a fixture at the club in Mexico since being spotted by the manager.
Despite her advancing years, the sprightly pensioner visits and takes her traditional dancing in the cage 30 feet from the ground.
Describing the first time she visited Coco Bongo nightclub with her friends, Flora said: "The stage was way up. I think it used to be a warehouse.
"They asked if anyone wanted to go up and meet the band, and we all went, but you had to go up steep steps.
"I was in my 80s at that time, and when the manager came to me he said, 'uh uh'.
"I thought maybe he was afraid I would fall, then he said, 'I've been watching your moves. I've got a better place for you' and that's how I wound up in a cage 30ft off the ground."
Every year since Flora and her friends have returned to the Coco Bongo club, where she resumes her place in the cage.
Flora moved from Dundee to America where she took up line dancing following her second husband's death.
She was in her 60s before she started, but even at 92, age will not hold her back.
She said: "It's no problem! I like everything like country and western, and jazz dancing. When my friends joined line dancing we used to go to festivals together."
Her daughter, Linda Murray-Booy, who was visiting Dundee with her mother this week, added: "She had a fall a while ago and the first thing she asked her doctor was 'will I still be able to dance in the cage at Coco Bongo?' to which the doctor replied, 'not this year.'"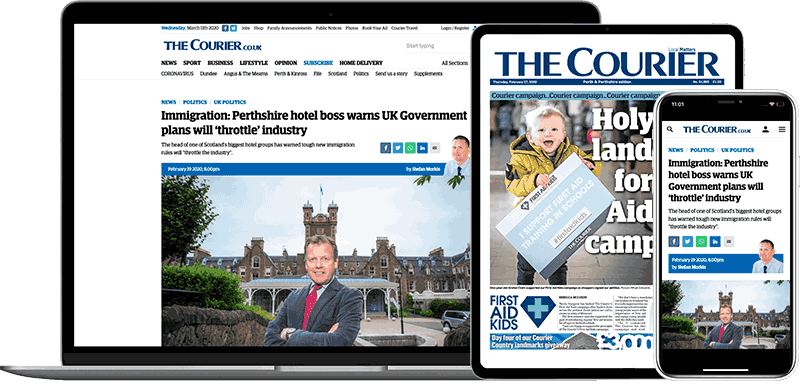 Help support quality local journalism … become a digital subscriber to The Courier
For as little as £5.99 a month you can access all of our content, including Premium articles.
Subscribe