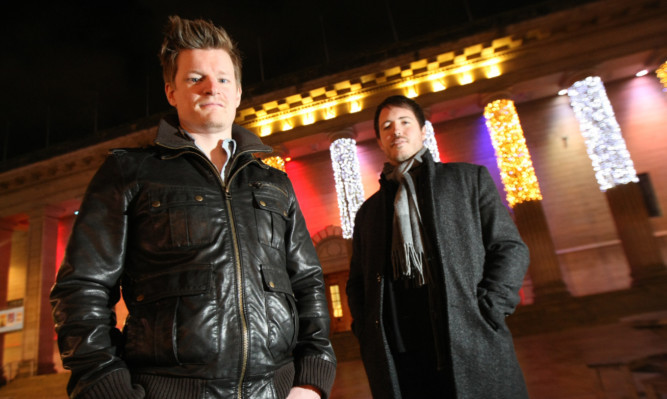 A pair of aspiring Dundee film-makers are on their way to the editing suite after The Proclaimers answered their call.
As we reported, Stuart Hamilton, 31, and Liam Johnston, 33, had been pursuing the duo for over a year in a bid to convince them to film a brief cameo for their online comedy series, Sons of Spielberg.
The show is a comedy about three aspiring film-makers and although the first two episodes have proved popular online, Stuart and Liam hit a Proclaimers-shaped wall when they tried to complete the third.
Both massive fans of the band, the film-makers required a closing shot of Auchtermuchty's famous singing twins to complete the episode but had been unable to get Craig and Charlie Reid to appear.
https://youtube.com/watch?v=U2V1oxsXOmA%3Frel%3D0
To catch the band's attention they produced their own web appeal and struck gold on Saturday when the singers agreed to film a short segment for Sons of Spielberg before their concert at the Caird Hall in Dundee on Saturday night.
Stuart said: "They were gentlemen really nice and up for doing the scene. We explained how they would be used as a punchline and alleviated any concerns that they would look like idiots!
"We gave them a few lines and they performed them really well."
Stuart said around 70% of the necessary footage of the new episode has been filmed and they hope to post it online soon.
"We are going to get it out by the end of January," he said. "There are still a few scenes we need to shoot in the Whitehall Theatre and will go and get that done once panto season is over."