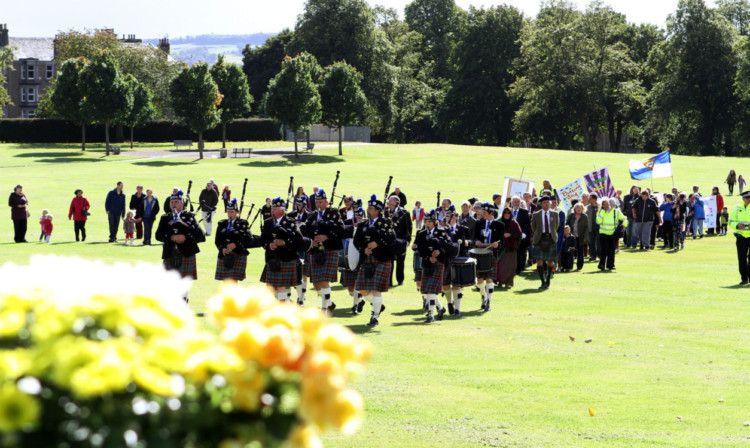 Baxter Park in Dundee celebrated its 150th anniversary with a parade re-creating the original opening of the attraction.
Hundreds of people attended the celebration, which included a fairground and exhibition of photos and memories.
The head of the procession included Lord Provost Bob Duncan, Friends of Baxter Park's chairwoman Irene Shearer and Robin Baxter, a relative Sir David Baxter, who, along with his sisters, gifted the park to Dundee.
Samantha Keenan, 24, a post office worker, said she had come along to the event with her whole family.
She said: "We grew up near here and, when we were younger, it was where we used to play. It's good to see the park being done up and it's nice to see it looking better."
Kenny Crooks from Friends of Baxter Park said: "There has been about six to eight months of work which has gone in to this.
"It's a lot of work for people who are doing day jobs as well, so it is good to see it coming together with such a good turnout. We've also had a bit of good weather too.
"You can see by the amount of people here that it is an integral part of the local community.
"Today is about trying to replicate little bits of what happened before. We have the parade, although the opening parade had 7,000 people.
"It's too windy to put up the hot-air balloon. I was reading about the original opening of the park and it was too windy to launch the hot-air balloon then. So, we have even replicated that part!"
Rededicating the park, Robin Baxter said: "May it continue to provide pleasure for families for the next 150 years and beyond."
Bob Duncan said: "Dundee is lucky to have such a generous benefactor. It continues to be a green oasis in the heart of the city. It is a great place for families to meet and it is looking beautiful."