New logo for new Dundee and Angus College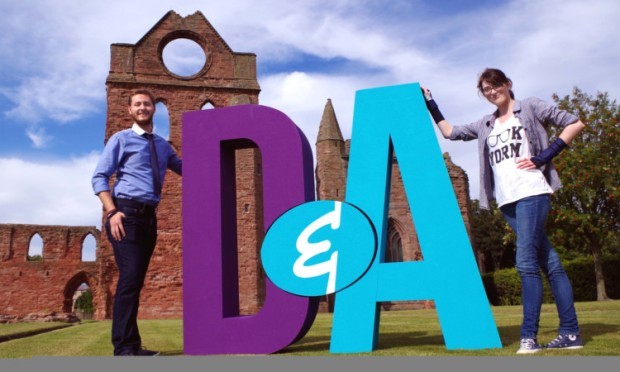 Arbroath Abbey was the venue for the unveiling of the logo for the new Dundee and Angus College.
The setting was chosen partly as a result of the number of weddings that have taken place there in recent years.
"The merger of Dundee and Angus Colleges is a like a marriage not something that either party goes into lightly," said Graham Ramsay, who is student president-elect of the new organisation.
"It is a serious business and both organisations have shown commitment and dedication to make it work."
The 21-year-old won a vote held across both colleges to secure the full-time president's position and was happy to unveil the new insignia.
The logo was designed in-house and chosen from a range of options by members of the Tayside Partnership Board.
Dundee and Angus College will formally come into being on "vesting day" on November 1.
The principal designate is Christina Potter, who currently heads Dundee College.
She said: "Having a new logo is one more step in our merger plans, which are running very smoothly.
"A new senior leadership team has been appointed, ready to take the reins in November and plans to integrate IT systems, telephones and back-office services are well advanced.
"Our overall aim is to enrich the services and provision we currently offer to students, expanding course choice and enhancing progression both into employment and onwards to university."
The merger is part of wave of consolidation that is substantially reducing the number of colleges across the country. The sector is also facing significant pressure on funding.
Unions have voiced concerns that the tie-up between the Dundee College and Angus College will result in job losses, although Unison trade union representative Dougie Deans recently said he hoped frontline redundancies could be avoided.