Scooter fans rally to get Dundee man's Vespa back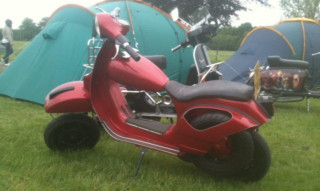 Six hundred scooter riders formed part of a mass community effort to reunite a Vespa owner with his pride and joy.
Colin Smith, 45, from the Kirkton area of Dundee, launched a social media campaign to get his beloved red 200cc scooter back after it was taken from his front garden on Wednesday.
Within hours friends and members of Colin's two scooter clubs began notifying him of sightings of the distinctive "heirloom".
Colin praised the power of the community in helping him trace the bike he has ridden since he was 17. Sighting after sighting finally helped him discover the bike in the Old Glamis Road area.
"When you get a tip-off you check it out," he said. "I'm really glad I got it back. I thank the social media sites."
Colin first discovered his 1981 model was missing from his front garden in Craigmore Street about 10pm on Wednesday but later heard it had already been spied in the St Mary's area of the city two hours earlier.
He reported his loss to the police and also rallied the members of the scooter clubs and other friends to be on the look-out.
"I'm in probably the two biggest clubs locally the A92 Scooter Club and Stars and Stripes Scooter Club," he said.
"There were approximately 600 people looking for it."
Colin got close to his Vespa at one stage on Wednesday night.
"I actually chased my own bike through Kirkton last night and I saw them at the back of Kirkton Community Centre," he said.
"They had a chance to go forward or back but a car got in the road and I lost them. It was two young kids wearing hoodies. No one seems concerned that they're out without helmets on."
Colin spent yesterday scouring the area around Caird Park and Clatto Woods for any trace of his prized scooter.
Then he got the tip-off that reunited him with the bike and ended up pushing it from Old Glamis Road to the workshop where he restores bikes for a living in Lochee.
"This is what it's all about," he said. "It's about working together, it's all about community. With having a scooter club and all being together, that sense of community is really important.
"People were letting me know where they'd seen it and then when I told the police, they'd already let them know too."
Colin has been riding for nearly 30 years and this particular bike is very close to his heart.
"I'm a real enthusiast," he said. "I've been riding this Vespa since I was 17. I gave it away and bought it back, gave it away and bought it back. Every time I bought it back I restored it. This is something I've kept. It's an heirloom."
The scooter is a 1981 red metallic model with blue flames painted on the tank. The back end was a 1980 conversion and the number plate sits upwards.
The scooter has been traced with a few scrapes and a dented exhaust but Colin is just glad to have it back to restore once more.