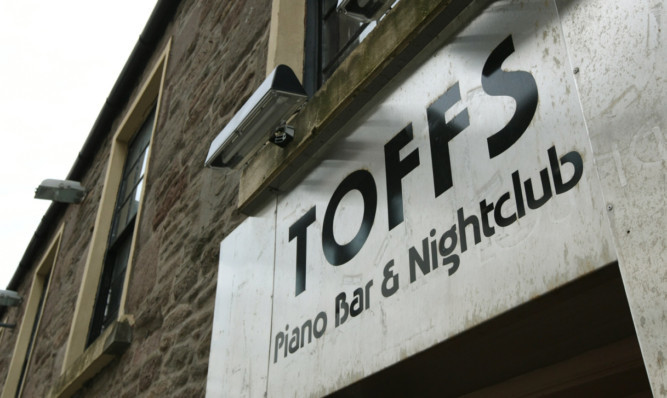 A Dundee bar has been refused a drinks licence and its owner stripped of his personal licence after hosting an unlicensed Christening party at his new pub.
Toffs Piano Bar and Nightclub hosted the party on April 6, where around 80 people were found to be drinking alcohol and being served by four bar staff despite there being no licence in place.
Neighbours also lodged objections.
Police were tipped off about the party and brought it to a premature end, but officers found Thomas Harkin Sr, who was in the process of opening the bar with his son, to be "arrogant", "obstructive" and "under the influence of alcohol".
Police Scotland area commander Shaun McKillop wrote to Dundee City Council's licensing board objecting to the applications for both licences and board members unanimously agreed to review both.
Chief Inspector McKillop said: "Mr Harkin senior was identified as being the person in charge.
"He was found to be under the influence of alcohol and when spoken to he adopted an arrogant and obstructive stance. Mr Harkin was adamant he was doing nothing wrong."
The Session Street bar, which lists Mr Harkin's 22-year-old son as the manager, had previously been operating on occasional licences but the last date they were allowed to operate under such a licence was on March 24.
Mr McKillop said: "The Police Service of Scotland now has significant concerns regarding the proposed operation of the premises under a premises licence.
"My main concern is that the applicants have demonstrated that they are likely to pay scant regard to the conditions of that licence, which could have an adverse impact on public safety."
Mr Harkins told board members he believed he had been operating on the previous occasional licence, which was in the name of Laura Harkins, as he was told by a council staff member that it had been continued in her name.
He insisted he had paid £100 for the licence and also had three receipts for applications, which he had paid £10 each for.
Council licensing officer Stuart Galloway told the board that the money paid had been for applications which were not successful and did not constitute a licence having been granted.
The board members unanimously refused both licences.