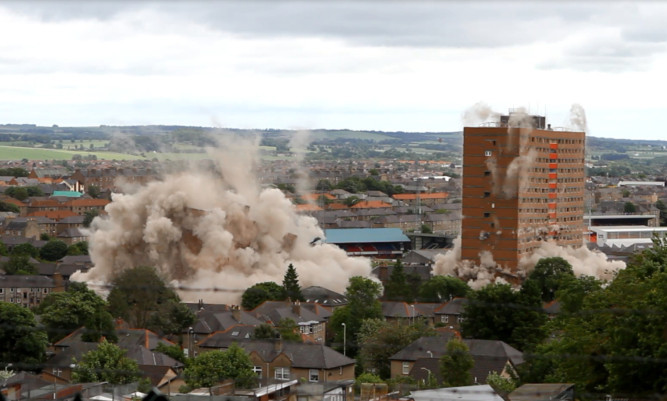 Dundee's two tallest buildings were dramatically toppled in a spectacle witnessed by thousands of awestruck onlookers.
The achievement in blowing down the 22 storeys of Bucklemaker and Butterburn Courts in simultaneous blasts and making some 20,000 tonnes of concrete crumble into two precise gaps in a densely built-up area was stunning.
The highly-skilled £2.4 millionoperation was carried out almost exactly to plan, much to the relief of contractorsSafedem and Dundee City Council.
No one was injured, little damage was caused to other properties and crucially St Martin's Episcopal Church, which was squeezed between the two towers, survived almost unscathed.
Delighted Safedem managing director William Sinclair said: "I think someone up there was watching over us."
Gallery: Hilltown multis demolished
The company had spent monthssurveying the site and positioning 10,000 detonators to control the direction of the demolition away from the church and other surrounding buildings.
Bucklemaker collapsed into a giant heap immediately to the east and Butterburn came down at more of an angle reaching the edge of Strathmartine Road.
Some of its debris settled higher off the ground than anticipated, and Safedem brought in the high-reach "muncher"demolition vehicle from Tayside House, their other major demolition operation in the city, to nibble down its level.
Some of the rubble did damage thecorner of the St Martin's site, falling against the roof and fire escape of the hall.
"That was disappointing but we are still standing and that is the main thing," Bishop Nigel Peyton said.
"The church is OK and the damage to the hall will affect some of our user groups, but we are sure Safedem will do the right thing to attend to this straight away."Mr Sinclair said the Derby Streetdemolition was one of the most challenging his company has tackled.
"Together, the two towers were a heck of a structure," he said.
"They were very rigid and they didn't want to come down easily, and we didn't have a lot of space to bring them down in.
"We brought them down pretty much in the way we wanted. Some debris struck properties in Russell Place next door but these houses have already been cleared for demolition, and we allowed for that tohappen."
Contractors will remain on the site for up to 20 weeks to remove the rubble which will be recycled for landfill for the waterfront redevelopment. A large exclusion zone was set up with a number of road closures from 8am until mid-afternoon. About 600 homes and 60 commercial premises were evacuated.
An evacuation centre was set up for people who had to leave their homes.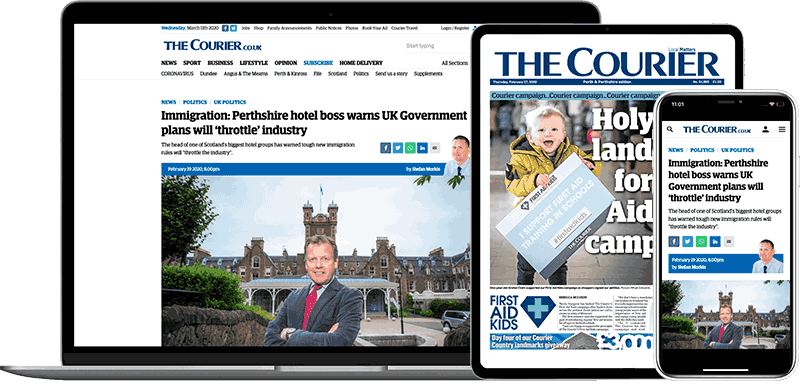 Help support quality local journalism … become a digital subscriber to The Courier
For as little as £5.99 a month you can access all of our content, including Premium articles.
Subscribe