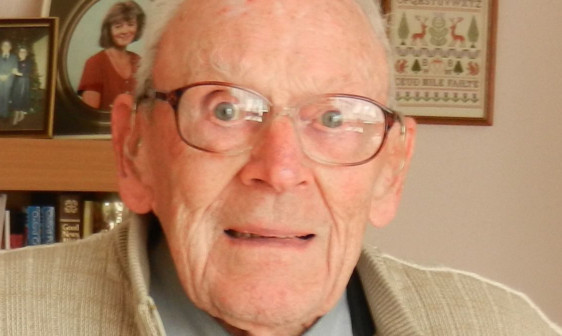 Norman Blair, who spent more than 1,000 days in some of the Second World War's most notorious prisoner of war camps before making a daring escape from the Germans, has died in Dundee.
He was 92. During his harrowing captivity, Mr Blair believed that only his ability to play the accordion saved his life.
It also helped others survive. He played it to deaden the sound of tunnels being dug, and once hid a camp's secret radio in its bellows during a snap inspection.
Dundee-born, he went to Victoria Road School and Stobswell School and shone at music. He became an outstanding accordion player and counted Jimmy Shand among his friends.
Shand, who could not read music, used to ask Mr Blair, who could, to play new pieces for him so that he could learn them by ear.
Entering the war as an RAF ground gunner on airfield defence duties he survived several attacks one bomb exploding just yards away and lifting the ground from beneath him.
Absorbed into the Royal Air Force Regiment, he saw service in Egypt and Libya. After a desert march of 120 miles, Mr Blair's section entered Benghazi and witnessed the chaos of war.
Detached from comrades during bitter fighting, a wrong turning led his small group to a German roadblock and for them the war was over.
Initially he was handed to the Italians and placed in a cage. There followed another temporary prison in Libya before he was shipped to Brindisi in Italy.
He spent time there in the Tuturano camp before being moved to Campo 65 at Gravina. Worse was to come when he learned he was moving to Fortress Gavi, the Italian equivalent of Colditz.
There he 'captured' a piano accordion sent by the Red Cross. His playing became a diversion or distraction for several escape attempts, including one by Gavi's "most valuable" prisoner, Lt Col David Stirling, founder of the SAS.
He later recalled "a steady job holding impromptu concerts to the accompaniment of lots of singing and stamping feet" to cover the noise of tunnelling.
After the Allies' push into Italy in 1943, he was moved to Stalag XVIIIA in Austria. Under German conditions corporals and above could not be forced to work, and he became a 'barbed-wire NCO' by sewing sergeant stripes on to his tunic.
During a snap inspection he used his accordion to conceal parts of the camp's underground radio and recalled how his hands shook as the officer asked him to play a tune.
In 1944 he was moved to Stalag 357. As the war progressed Stalag 357 was moved into north-west Germany and located just a handful of miles from Belsen.
On Friday April 13 1945, and with a friend called Doug, he made his escape by throwing himself into bushes as a party of 300 prisoners began the Long March into Germany as the Nazis retreated.
After belly-crawling into trees in No-Man's Land as the column moved on, they stumbled on for three days until they met an advancing British tank squadron.
Back home and demobbed, he went into the cinema business in England, before returning to Dundee, working with McGill Brothers as a credit inspector.
Predeceased by his wife Betty, he is survived by daughters Jacquelyn and Shirley.
His funeral takes place at Dundee Crematorium on Tuesday at 2.45pm.