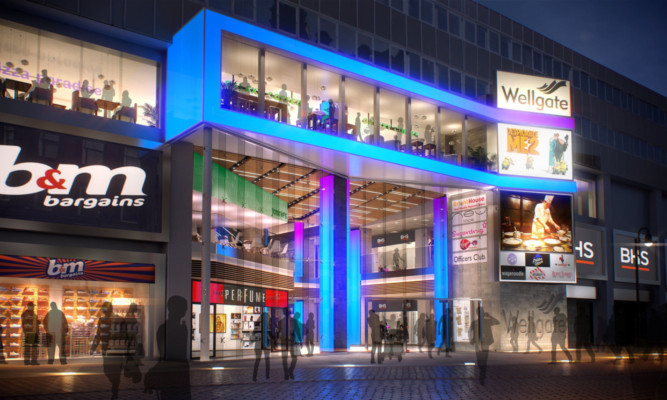 A proposed multi-million-pound overhaul of the Wellgate Centre has been hailed as "a real vote of confidence" in the city.
Up to 330 jobs could be created in the massive development, which would include a 900-seat eight-screen cinema, family restaurants, cafs and leisure outlets.
City development director Mike Galloway said Dundee's ongoing £1 billion waterfront development was a "big persuader" for property investment management company Orchard Street's regeneration project.
He said: "Orchard Street are a fund manager for very substantial investment resources. For them to come and take the Wellgate Centre and commit to a major refurbishment is a real vote of confidence in the waterfront and the whole of Dundee.
"We have been putting a lot of effort into getting out there beyond Scotland and trumpeting what is happening in Dundee, and maybe this is just a sign of that starting to have an effect."
The front of the centre would be transformed by a three-storey entrance lobby with lifts and escalators.
Orchard Street has not yet released details of its wishlist of new businesses or the cost of the venture, describing it only as a "significant new investment".
Mr Galloway said: "They haven't got down to that level of detail yet but the key thing is that they are focusing the top floor on leisure.
"Bringing multiplex cinemas back into the city centre is a very welcome move. That concentrates the retail component on the ground and first floors, which I think will help strengthen the centre.
"I think it is the equivalent to what happened to Overgate 15 years ago. This is the opportunity for Wellgate to come back to what it was once."
The development could be a much-needed shot in the arm for Dundee's night-time economy and provide a family-friendly hub in the city centre.
Dundee and Angus Chamber of Commerce chief executive Sandra Burke said: "It's an exciting and interesting proposal.
"If you go to Glasgow, Edinburgh and Aberdeen there is an early-evening economy that is quite thriving with families, couples and visitors staying on, having a meal and going to the cinema.
"I think that in the city centre that is something clearly we just don't have, so this is good news."
David Carson, Overgate manager and chairman of the city centre action group DD One, said: "It's great for the city both in terms for job creation and driving a night-time economy.
"With my Overgate hat on, it's complementary and doesn't conflict with anything we are doing. All round it is great news for the city."
Phillip Rodger, partner at Orchard Street, said: "We are currently talking to a number of potential occupiers about taking space in the improved Wellgate Centre and are aiming to attract family dining and branded cafs in particular."
Dundee East MP Stewart Hosie said: "This proposal is most welcome and is the latest in a considerable list of recent investment announcements in the city.
"There are now applications and proposals for several hotels. We have the now open Olympia and will have a new railway station concourse.
"We also have today's announcement by the Scottish Government of £1.37 million to build more than 80 new social houses in Dundee, all of which will create new jobs and provide a boost to the local economy."