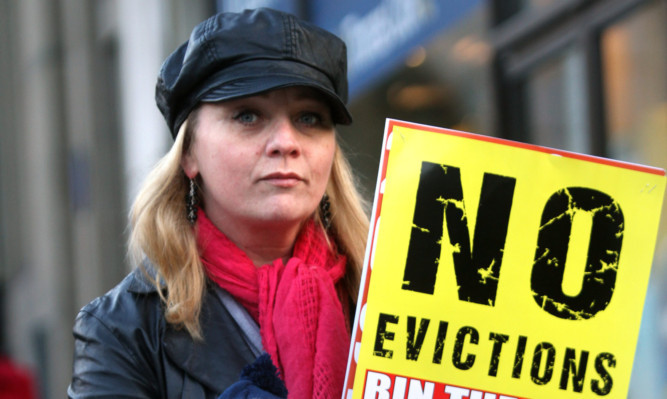 Council tenants hit by the "bedroom tax" will not be evicted if it forces them fall behind with their rent.
The policy, which will last for one year, was pushed through last night by the city council's SNP administration, despite opposition from the other parties.
The housing department will still use all other methods open to it to collect arrears and officers will have to be satisfied tenants are doing all they reasonably can to pay.
More than 3,300 council and housing association tenants in Dundee will be affected by changes being made to housing benefit.
Anyone deemed to be living in a property with one bedroom more than they need will have their benefit cut by 14%, with a 25% cut for those in homes with two unneeded bedrooms.
Dundee tenants are expected to lose just over £2 million an average of more than £600 per year each and will have to make up the difference themselves.
The housing committee meeting at the City Chambers was attended by campaigners from Bin the Bedroom Tax.
Spokesman Jim McFarlane told councillors the cuts would only push people further into poverty unless they were willing to move to a smaller home.
He said: "Why should people who have lived in their home for 10, 20, 30 years be forced out by this government?"
Public meetings held in the city recently had heard from people fearing they would have to choose between cutting back on food or heating to pay their rent.
"This is an attack on the poor by a government for the rich. It comes from ministers who have not just a spare bedroom or two but a spare mansion or two," Mr McFarlane said.
The administration put forward a proposal criticising government policy as "regressive, retrograde and inhumane," and warning it would lead to increased rent arrears. It also sought support for its anti-eviction proposal.
The Labour group made its own suggestion to call on the Scottish Government to amend housing laws to prevent "bedroom tax" rent arrears being used to justify eviction and to fully fund any mechanism to support this.
Liberal Democrat Fraser Macpherson and Conservative Derek Scott both said they could not support the proposals by the SNP or Labour.
Mr Macpherson criticised what he felt was the "megaphone diplomacy" of the debate and Mr Scott said the UK Government was seeking to reduce an unsustainable welfare bill.
Independent councillor Ian Borthwick said he was saddened that despite almost every speaker opposing the bedroom tax it had not been possible for councillors to come to an agreement.
The 16 members of the SNP group used their majority to vote through their proposals, with 11 votes including Mr Borthwick for the Labour proposals and no votes from Mr Macpherson and Mr Scott.