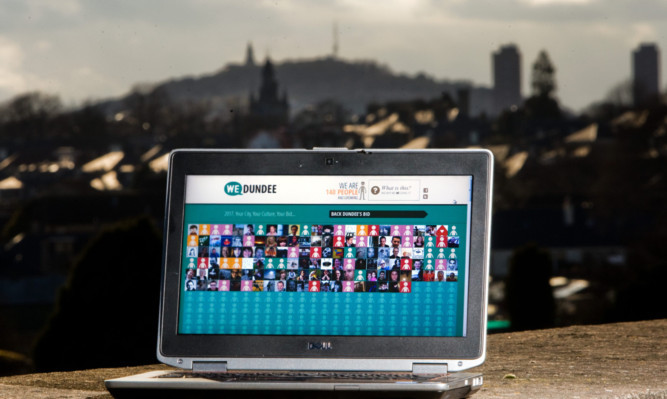 A call for 2,017 reasons why Dundee deserves the UK City of Culture title in 2017 has got off to a flying start.
Almost 200 people shared their "hidden secrets" and thoughts on the city on the first day of the wedundee.com website, which will form part of the city's bid for the award.
The site was launched by arts and design group Fleet Collective.
Director Lyall Bruce said it aimed to capture the "great sentiment" felt for Dundee.
He said: "It isn't about organisations, it's about the whole city, and it's about people. If we can show that the will of the people is behind the bid, it will hopefully strengthen Dundee's chances.
"The comments that people are leaving on the site will all be looked at by the bid team and as many as possible will make it through to the bid stage as well.
"I have been reading through as many as I can and we have had some really interesting things that people have pointed out."
Visitors to the site are invited to post a "hidden secret" of Dundee for the bid judges to "be amazed about the richness and variety of what goes on in the city".
One comment read: "Dundee's thriving musical community is one of the best in the UK. The sheer quality of music that is being churned out and played in many of the live music venues is often under appreciated."
Another said: "From Vanilla Ink to Tin Roof via Fleet Collective, Jam Collective and Rusty Hip not to mention all the independent shops and cafes that are setting the foundations for the future retail economy of the city. Good work, lets keep it going."
Dundee is up against 10 competitors, including Aberdeen, Hull and a joint bid by Portsmouth and Southampton.
Earlier this month Brian Cox, Lorraine Kelly and Sheena Wellington were revealed as Dundee's bid ambassadors.
Bids must be submitted by the end of April, with a shortlist being announced in June. The winner will be announced in the autumn.