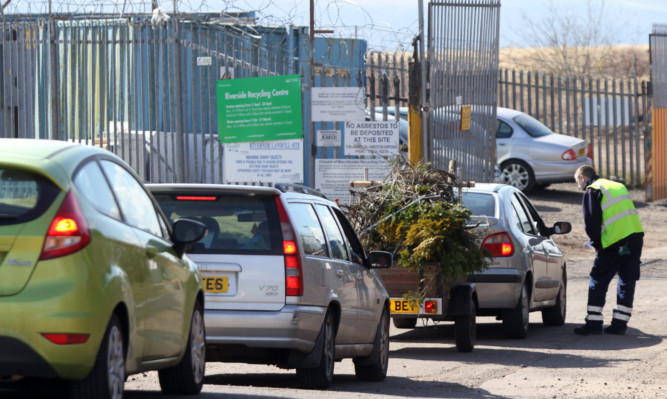 There have been queues to use Dundee's remaining recycling centres following the closure of Marchbanks last week.
Politicians opted to shut the centre on March 31 to save £316,000, leaving the Baldovie and Riverside sites.
West End councillor Fraser McPherson said Dundee City Council must "get its act together" after a weekend of congestion at the Riverside Recycling Centre in his ward.
"Residents bringing recycling to the site first thing on Saturday morning found they joined a long queue of people unable to deposit recycling as the skips were full from the night before," he said.
The Lib Dem politician said constituents have complained and he has since contacted the council on their behalf.
Mr Macpherson said: "The council really does have to get its act together to ensure the facility is available for use during its advertised opening hours and I have sought that assurance from the environment director."
At the moment people cannot deposit rubble, bulky or mixed waste at Riverside or garden waste at Baldovie, causing further concern to the councillor.
He said: "In terms of sustainability that makes no sense whatsoever and the council must review this as a matter of urgency."
Doug McLaren, of Friends of the Earth Tayside, said the situation would see people in Dundee drive one million extra miles every year, emitting more than 400 tonnes of carbon in the process.
"So much for the council's claim to be saving carbon by closing Marchbanks, let alone the financial cost to the public," he said.
"The Marchbanks closure was ill-thought-out, with no consultation, almost no advance publicity, and from Councillor McPherson's remarks, it is clear that the council's readiness to cope with an unsurprising increase in traffic to the Riverside site at the weekend was found wanting."
Councillor Craig Melville, environment committee convener, admitted there were "minor issues" at the weekend.
"Last weekend was the first since the new system was introduced," he said. "Usage of all sites will continue to be monitored."
Mr Melville also urged people to use local recycling points.
He said: "I would always encourage people who want to recycle glass, paper, plastics and cans to use the recycling points or neighbourhood recycling points, many of which will be closer to them than the recycling centres."