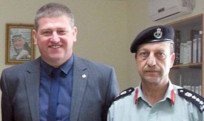 A former firefighter from Dundee has spoken of the horror he witnessed while working with counterparts in Palestine.
Jim Malone recently retired having served as a Scottish Organiser with the Fire Brigades Union (FBU). He spearheaded a training programme for Palestinian firefighters, which was delivered in Dundee.
Mr Malone was in the occupied West Bank in March to meet managers at the Palestinian Authority Civil Defence Fire and Rescue Service.
Checks by Israeli soldiers often hamper the life-saving efforts of their firefighters, so senior staff were given specialist training in modern management techniques.
Mr Malone said: "During the visit a young Palestinian was shot dead at the checkpoint we were entering. Children had been throwing rocks at the Israeli Defence Force and an IDF soldier replied with live rounds, somewhat disproportionately.
"A life was taken with complete impunity. His crime was to be near the checkpoint. Earlier in the day the firefighters took me to Bethen for lunch. Afterwards, we took time for a walk in the hills north of Ramallah.
"This was enjoyable and disheartening at the same time great to be in the beautiful Palestinian countryside with friends, however the disturbing site of hilltop settlements, where armed settlers have a habit of taking target practice at Palestinian farm workers, reminded me of the occupation."
Israel's occupation of the West Bank and East Jerusalem began in 1967 and no foreign government supports the country's annexes.
The United Nations has repeatedly upheld the view that the construction of settlements constitutes violation of the Fourth Geneva Convention.
Mr Malone said: "The Palestinian people have embarked on a struggle for statehood. The longest military occupation in modern history must end soon.
"Palestinian firefighters, trade unionists and the Palestinian people have the support of the FBU in that struggle."
His tour of the troubled region also took him to Dundee's twin city of Nablus, 40 miles north of Jerusalem, where a former Tayside fire engine is now used.
In 2011, the FBU purchased two appliances to take to Nablus Municipality Fire Department, but the journey was too much for one of the engines, which had to be abandoned in Greece.
There were fears red tape may have prevented the remaining truck and equipment from making the 3000-mile trip when Israeli customs officers impounded the vehicle at Haifa for a time. However, it was eventually cleared and has been serving the community for almost two years.
Mr Malone said: "We visited the central fire station to meet our old friends, trained in the UK in 2009.
"It was great to see the FBU Dundee to Nablus WTL, delivered in 2011, still operating at the Nablus East Fire Station."
A total of 27 senior managers were trained in Dundee during the programme delivered by the FBU. They took their new skills home to Palestine and passed them on to firefighters across the region.
Mr Malone said: "A strong message of thanks was given to all those who assisted in delivering the training, in particular the course facilitators and the FBU officials who made their stay in Scotland such a memorable event."