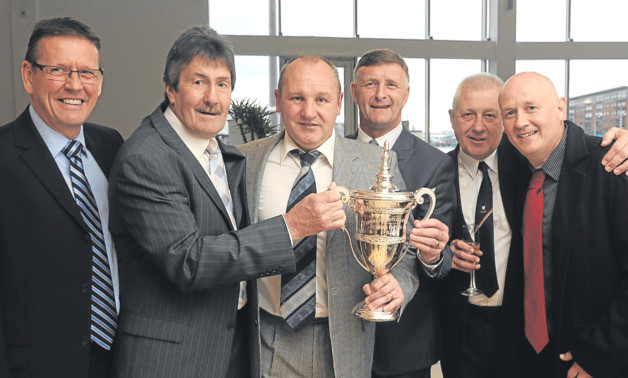 May 14, 1983. For football supporters of the Tangerine persuasion it is a date that will remain forever fixed in their memories.
Recalled too are the names of the team that took Dundee United to the top of the table for their first premier league title names like Hegarty, McAlpine, Sturrock, Malpas, Kirkwood and Narey.
On Friday night some of those team-mates came together to celebrate their achievements with 250 friends and fans at a 30th anniversary dinner at the Apex Hotel.
It was also a chance to remember how they clinched their historic victory in a nail-biting tie against their city rivals.
United went to a packed Dens Park knowing only a win would guarantee them the title in a close-fought race with Celtic and Aberdeen.
Goals from Ralph Milne and Eamonn Bannon sent the United fans wild but Dundee pulled one back to ensure a tense wait throughout the second half before the team and the fans could celebrate their triumph.
Team captain Paul Hegarty recalled his main feeling when the whistle blew was relief.
"We were just delighted to have crossed that line," he said. "Can you imagine if our near neighbours had done the business that day? We would never have heard the end of it.
"Obviously it was nervy, cagey but like everything else, we came good."
Click here for a full photo galleryIt was an extraordinary season for United."You are talking 36 games, 24 wins and eight draws and only four defeats. It was magnificent and it was great for the city of Dundee," said Hegarty. "We will never forget that season and it's nice to be honoured this way."
Looking around at his former colleagues, he added: "Who would have believed it was 30 years ago. Some of the lads look better now than they did then!"
Goalkeeper Hamish McAlpine added: "It means a lot. It's part of history obviously and something that was done for the first time. It was a great achievement and a fantastic bunch of guys to work with. We were a squad of honest players, everybody mucked in."