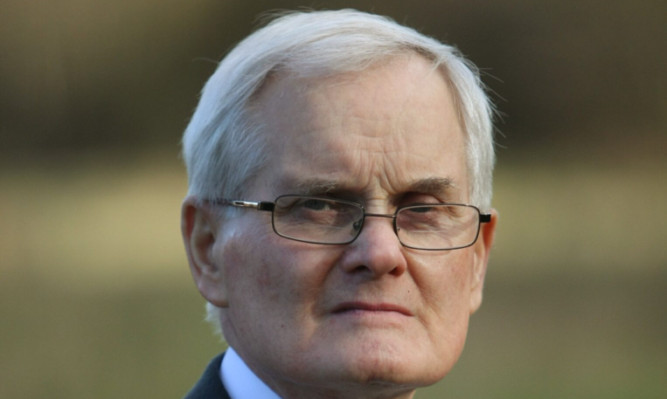 Scotland's longest-serving councillor Ian Borthwick says comments made by councillors at a meeting on Monday night were: "The worst I have ever heard in all my time at the council."
Mr Borthwick, who reaches the milestone of 50 years in local government in May, described some comments expressed at the policy and resources committee as: "Infantile and an affront to all members of the council."
The veteran councillor also warned that the scenes at Monday night's committee, where opposition councillors walked out of the chambers in protest at an amendment on a report by chief executive David Dorward, which was proposed by housing convener Jimmy Black, might happen again.
In his amendment, Jimmy Black criticised members of the opposition but praised the Changing for the Future Board's position of holding meetings in secret.
He said the position taken by opposition members not to attend those meetings was: "A cynical dereliction of duty."
He added: "By not attending, you open yourselves to the accusation that you are taking the pay and not doing at least part of the work."
That sparked a mass walkout by the opposition parties and Mr Borthwick reacted with fury last night, saying he was "disgusted" at being accused of dereliction of duty.
"In my 50 years of serving on this council, I have never heard anything like that," he said.
"Do you think my constituents would put up with me all this time if I was derelict in my duty? It wasn't an amendment, it was a politically-motivated rant.
"You can have robust debate but that reached a new low last night. There seems to me to be a growing lack of respect for others in the chamber and commonsense is not so common."
During the debate, Mr Dorward was criticised by Labour's Richard McCready for "wasting the committee's time" by bringing forward the report, a comment SNP administration leader Ken Guild branded "reprehensible and unacceptable."
Education convener Stewart Hunter also branded the opposition liars.
Mr Borthwick continued: "I am concerned that the massive problems facing the city at the moment can't be addressed properly if members of the opposition are to be criticised in a quite unworthy way.
"This sort of thing is severely damaging to that. I had a talk with some members this morning and I get the feeling they are incensed with what went on and that there has been a significant deterioration in relationships."
Mr Borthwick said he had torn up Mr Black's amendment as soon as he read what had been passed to him.
"I think this will happen again and that significantly prejudices the likelihood of a harmonious way of working. Councillors have always worked together in many situations, you have to trust each other and I think we have lost that trust.
"All through my time in local government, one of the basic rules that stand up is respect for your fellow members and I feel that we were singularly lacking in that last night.
"Some of the comments were offensive and fell far short of what we have expected over many years of service."
Liberal Democrat Councillor Fraser Macpherson described the meeting as "rather disastrous" on his blog and stated it was "playground politics".
"To move an amendment saying other councillors are responsible for a so-called 'cynical dereliction of duty' simply because they don't agree with the SNP, says a whole lot more about the SNP group than it does about anyone else."