Dundee United fans say Pittodrie seat damage 'was not malicious'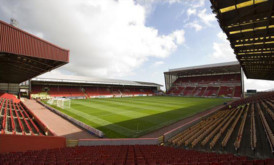 DUNDEE UNITED supporters' groups have hit back at claims that fans caused hundreds of pounds of damage at Pittodrie Stadium in Aberdeen on Wednesday.
Seats were broken during the SPL match and Grampian Police has appealed to anyone who witnessed vandalism to come forward.
Damage to the 18 seats ranged from cracks to "total destruction", with Aberdeen billing Dundee United at £100 a seat.
A spokesman for Aberdeen FC said: "There were 18 seats affected, each worth £100, although the damage ranges from being cracked to total destruction.
"As is normal in these circumstances, we will bill the visiting club, who will compensate Aberdeen FC for their costs."
United fans discussing the incident online said they had seen children carrying broken seats from the stadium, while others complained of rickety seats collapsing.
Supporters' groups said the damage had not been malicious.
Shug Falconer, from the Federation of Dundee United Supporters, said: "I was at the game and there is no way 18 seats were vandalised maliciously.
"United fans are pretty well self-policed and I would like to think if that kind of behaviour was going on our boys would speak up.
"I have read the posts online regarding this and have to say I totally corroborate what these guys are saying.
"The away section of Pittodrie is in desperate need of repair. Fans have to stand on the seats when play is at the other end of the pitch to get a view, and those seats getting broken is just part of wear and tear."
There were 13,176 supporters at the match, Aberdeen's third highest of the season, with the majority behaving well.
A Dundee United spokesman said the club would cooperate fully with any investigation.
A police spokesman said: "Grampian Police is appealing for witnesses after seats in the away section of Pittodrie stadium were vandalised.
"Seats in the South Stand were damaged during the fixture between Aberdeen and Dundee United on Wednesday. Anyone with information is asked to contact the police on 0845 6005700, or Crimestoppers on 0800 555111 to remain anonymous."
Police are reviewing CCTV footage from the game and interviewing match stewards as part of the investigation.
gogston@thecourier.co.uk