'A guiding light' tributes to sporting legend Ronnie McIntosh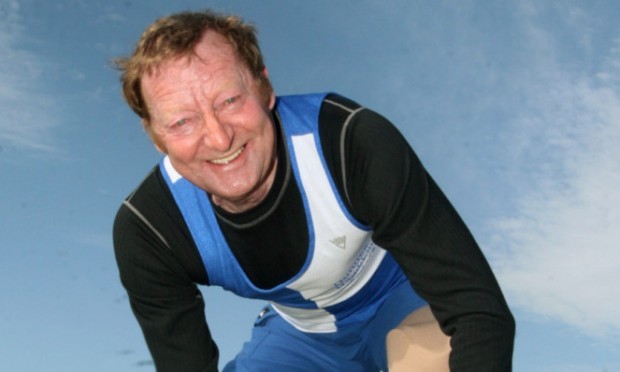 Tributes have poured in from across Dundee to local hero Ronnie McIntosh, who has died aged 62.
The double amputee and transplant recipient passed away on Thursday after suffering from a bout of pneumonia.
Ronnie, who was a life member of running club Hawkhill Harriers, was being treated in Ninewells Hospital for the illness when he lost his fight for life.
Olympian Liz McColgan, who started her career at the club, described Ronnie as a "guiding light" to runners in the city.
She said: "It is really sad news. Last time I saw him was at the sports awards and he was his usual happy-go-lucky self.
"He will be sorely missed and was a great character. He was a typical diehard club man. He was so supportive of the club. He really was a fantastic guy."
The sportsman, who formerly worked with the parks department with Dundee City Council, helped raise thousands of pounds for charity by taking part in numerous fundraising events.
His wife Cecilia (62) said she was devastated to lose the man she described as her "best friend".
She said: "He has had pneumonia before and we thought we would get it sorted but he took it severely and his lungs were just unable to cope with it. I was with him by his side when he died. He was so loved in Dundee. He loved the city."
Cecilia said Ronnie was thrilled to be part of the Olympic celebrations last summer when he was nominated to be a torchbearer.
She said: "He enjoyed every minute of it. That made him so proud to have him carry it. He loved sport, loved his running and football. He meant the world to me.
"He was my best friend. We supported each other through everything and just enjoyed life together. I just miss him. He was a great person."
Phil Forte, former secretary of Hawkhill Harriers and friend to Ronnie, described him as the "heart and soul of the club".
He said: "I have known him since I joined the club more than 20 years ago.
"He was made a life member of the club about five or six years ago and it was me who made the speech when it was presented.
"He was the heart and soul of the club and he was Hawks through and through."
Dundee City East MSP, and Scotland's Commonwealth Games and Sport Minister, Shona Robison said: "Ronnie was a sporting legend and I am sad to hear of his death and pass my condolences on to his wife and family.
"I was proud to nominate him to be an Olympic torchbearer and I know how keen he was to take on that role.
"He was an inspiration and did a lot of work with children, promoting sport and above all, showing by example what could be achieved despite disability."
gogston@thecourier.co.uk