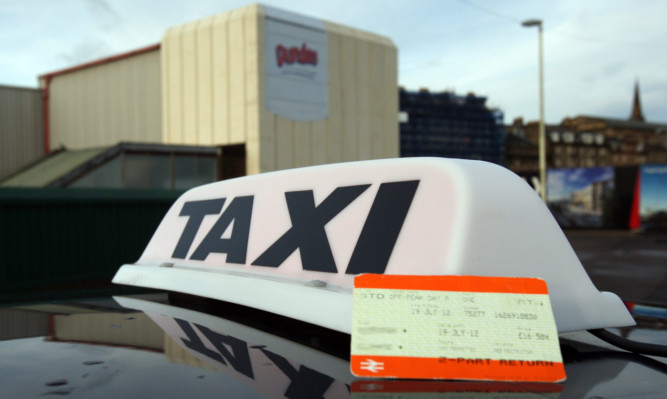 A RETURN journey from Dundee to Glasgow can be cheaper by taxi than train for a group of four.
Following recent fare hikes the price of an anytime ticket between the two cities has risen to more than £50, meaning it is more financially viable for a group of travellers heading west for shopping trips or concerts to be chauffeured there and back.
Dundee Taxi Association chairman Graeme Stephen said he would offer a return service to Glasgow, including waiting for his customers and ferrying them to and from their homes, for around £180 £22 cheaper than four anytime return rail tickets, which cost £50.50 each.
Mr Stephen said: "For me, that (fare) would be a day's work more than I could make in a day and if you take into consideration four people going to a concert they've got to get to and from the train stations as well."
A return bus trip costs £21, while driving to Glasgow and back would see motorists around £31 out of pocket in fuel.
Labour MSP Jenny Marra, who is based in Dundee, branded the rail fares a "disgrace" and part of a "Tay Tax" that hits tourism.
Ms Marra said: "It costs a group of four over £200 to visit Dundee from Glasgow. They'd be cheaper in a taxi.
"If we are to attract visitors and business to the city then Dundee needs its fair share of the national rail subsidy."
A Transport Scotland spokeswoman said the agency was aware there are "some anomalies within the fares structure in Scotland".
She added: "Together with ScotRail, we are looking at how these anomalies might be addressed and this work includes the issues identified regarding fares to and from Dundee."
A ScotRail spokesman said buying advanced tickets could lower fares.
He added: "Our approach enables us to continue to invest in improvements including more and faster services and better facilities at stations and on trains."
kiandrews@thecourier.co.uk
For an in-depth look at Scotland's 'crazy' rail fares see Wednesday's Courier or try our new digital edition.