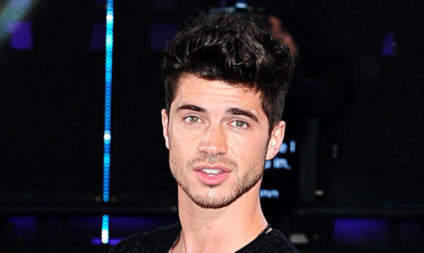 The mother of young Dundee actor Sam Robertson, who faces eviction tonight from the Celebrity Big Brother House, admits to having "massive mixed feelings" over the public vote.
Tanya Robertson says she'll be watching with bated breath albeit while on a girls' night out but doesn't know if she wants him to stay or go.
Former Coronation Street actor Sam (27), who was seen proudly wearing his Retro Dundee FC strip on the show, has been nominated for the heave along with Neighbours star Ryan Maloney.
Big Brother announced the shock twist after former supermodel Paula Hamilton became the first to be evicted from the show on Wednesday night.
Tanya admits she'll be a nervous wreck watching the eviction live.
"I've got a work night out," she said.
"One of my friends is leaving and so I thought I would have to watch it later, but my pal just said, 'Ach, we'll just find a pub with a TV'.
"It's really a bit of a struggle watching him.
"I was absolutely dreading it but it's not quite as bad as I thought it would be.
"The first night, I watched it with my brother-in-law, Tom Craig, who's also an actor.
"I was just so hyper and stressed out, it's weird watching your child in that situation but now that the first night is over it's much easier.
"Sam's not really been in it that much though, he's been really cool and kept out of the way.
"It's all the big personalities who hog the limelight and Sam's never been like that.
"That was his plan, just to stay in the background, really."
Tanya revealed she knew nothing about Sam's participation in the event until a few days before he left for the Big Brother house.
"He's been asked quite a lot for a few years now and he's always asked me for advice and I've always said no because he's quite shy about that sort of thing and I didn't think he would cope," she said.
"But he said he just decided that it was just too good to refuse and it would open doors for him.
"He emailed me to say, 'that's it, I'll see you on the other side'.
"The support I've had from friends and family has been amazing, my phone's never stopped with all the texts and everything.
"I don't know how he's coping without any music in there, it's his life and when he comes home he says his hellos and stuff and then disappears upstairs to his room to listen to his music, he's quite a solo person."
Tanya says whatever happens tonight, she just wants things to work out well for Sam.
"Part of me thinks 'how dare they want my bairn out'," she laughed. "But the other part just wants what he wants.
"I don't know how I'll feel if he's evicted, but as long as it's what he's happy with."
Proud Dundee FC fan Sam, who played Mike Baldwin's son Adam in Coronation Street, took his favourite football top into the house with him, continuing the tradition he started a couple of years ago.
"He wore it on Beaver Falls," Tanya says.
"He always wants to show his support for the team and he bought one for his wee brother Joel as well."
Sam's next venture is a full-length feature film called Dementemania, where he plays the lead role.
"His character is a young guy who goes mad in front of his computer screen," Tanya said.
awilson@thecourier.co.uk