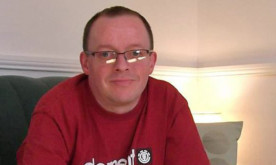 Tributes have been paid to a former Dundee musician who has died suddenly aged 45.
Brian Hayes, a well-known face in the city's independent music scene in the late 1980s and early 90s, passed away in hospital in Paisley last Thursday.
He formed electronic band Let's Evolve! and went on to play keyboards under a number of different guises around Dundee in the following years.
Mr Hayes was also known as a DJ at the CREEP night at Dundee's Duncan of Jordanstone College of Art and Design and The Edge in Commercial Street.
Founder of veteran Dundee band Spare Snare, Jan Burnett, who played in the first incarnation of Let's Evolve!, said his former collaborator had "a real spark".
He said: "Brian was very good at programming and he really had an ear for that. We used to record in his kitchen over a cup of tea.
"We never really bumped into anyone else recording electronic stuff at that time. He was a very interesting guy."
Mr Hayes attended St Clement's RC Primary School and St John's RC High School before going on to work in Dundee record shops Our Price and 23rd Precinct. He moved to Glasgow in the late 1990s.
He is survived by his mother Yvonne and brothers Alan, Paul and Kevin.
Mrs Hayes said the news of her son's death had come as "a big shock to us all".
She said: "Even when he was young he played violin in the Scottish Schools Orchestra and he appeared at the Rep as well.
"I hope people remember Brian and his music and all the fun and enjoyment he got from it."