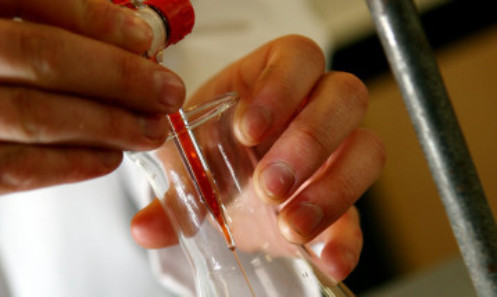 A team of Dundee University scientists are to play a key role in a £100 million project to create new medicines.
They will be working at BioCity Scotland in Lanarkshire, hunting through hundreds of thousands of chemical compounds to try to find ones that can be turned into useful drugs.
The project is backed by the Innovative Medicines Initiative (IMI), Europe's largest public-private partnership in the drug development field.
A consortium of 30 partners including pharmaceutical companies such as Astra Zeneca and Merck, in conjunction with leading universities and research institutions, have come together to create the European Lead Factory at BioCity and a site in the Netherlands.
Professor Andrew Hopkins, of Dundee University, said: "We are absolutely delighted that the European Lead Factory will be co-located in Scotland, with BioCity Scotland providing compound logistics and university staff at the site, undertaking screening activities and medicinal chemistry for the project.
"The addition of the European Lead Factory to the Scottish life sciences community seals our growing international reputation as one of the most dynamic and innovative hubs for academic drug discovery.
"We will use the opportunity provided by the IMI project as a springboard to win further investments in the field of drug discovery innovation to benefit not only academic research but wider economic and societal benefits for Scotland."
University principal Professor Pete Downes said: "This investment is an excellent indicator of the world-class capabilities in bioscience and drug discovery in Scotland and the UK.
"Dundee's early investment in academic drug discovery is beginning to pay off and I am particularly encouraged by the collaborative effort, brokered by the Scottish Universities Life Sciences Alliance, which has been critical to securing such a significant project."
The project cements the university's reputation as one of the UK's leading life sciences research institutions. More than 1,000 scientists and support staff already work in the field. Construction is under way on a new building at its Dundee city-centre campus which will add almost 200 more.
IMI is putting £16.3m into the drug discovery project, with another £3.5m coming from the Scottish Government and the Scottish Funding Council.
Also included is £75m in proprietary drug compounds from participating pharmaceutical companies and for use by project partners all to be stored at BioCity.
First Minister Alex Salmond said: "This provides enormous opportunities for Scotland's life sciences sector and it is fantastic recognition of the talent and expertise of Scotland's life sciences community. In particular, this shows the combined strength of our universities and commercial experts.
"Working together, they have been able to secure the biggest ever IMI contract of its kind for Scotland, putting Lanarkshire and Dundee at the forefront of drug discovery in Europe for many years to come."