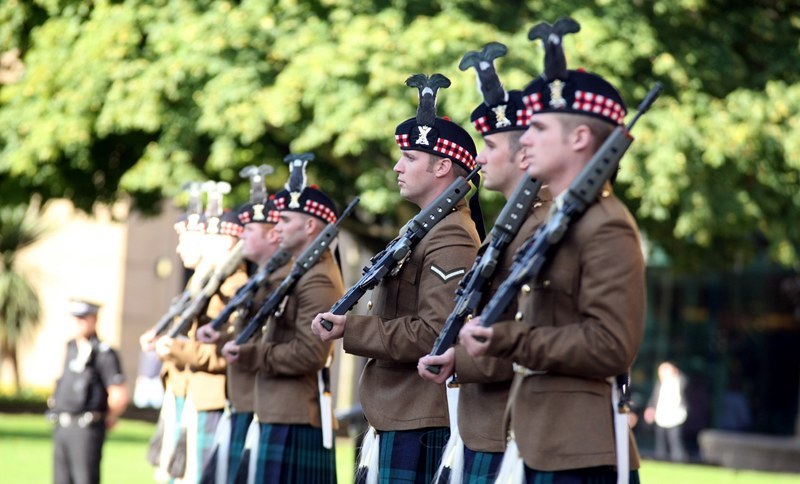 A coroner has recorded a verdict of unlawful killing for a Dundee soldier and his colleague who died on foot patrol in Afghanistan.
Wiltshire coroner David Ridley delivered his verdict following an inquest into the deaths of Private Kevin Elliott (24), from Dundee, and Sergeant Stuart "Gus" Millar (40), from Inverness.
The pair were from The Black Watch, 3rd Battalion, The Royal Regiment of Scotland and died during their first tour of the war zone in August last year when their patrol came under rocket-propelled grenade attack in the Babaji district in Helmand.
Pte Elliott's grandmother Joan Humphreys said she did not agree with the coroner's verdict.
"I don't accept who they blame in the report," said Joan, who is a member of the Stop The War campaign.
"I don't think that the Afghanistan soldier is to blame for the death of Kevin. He was only doing his job, like all the soldiers in the war.
"The people I blame for my grandson's death are the British and American governments they are the true culprits here.
"The troops should come home tomorrow. I think it's immoral and unacceptable that the troops are still out there."
Pte Elliott joined the army in 2002 and was initially posted to Bravo Company before moving to Charlie (fire support) Company.
Prior to Afghanistan, he had tours in Iraq and Northern Ireland.
He had been on the verge of quitting the army for civilian life, but had a last-minute change of mind and caught the final flight available to join his colleagues in Afghanistan.
Speaking about her grandson's reasons for joining the army, Joan said Kevin did not want to be branded a "scrounger" or "layabout."
"He knew how I felt about the war," she said. "But he couldn't get a job full-time and was working in a post office for 20 hours a week.
"He didn't believe in signing on and wanted to have a career."
Joan said her family were looking for reasons for Kevin's death but she said she understood there were no real reasons.
"This is what happens in war people die for no reason."
Described as a "first class field soldier" by his commanding officer, Lieutenant Colonel Stephen Cartwright, Pte Elliott attended Braeview Academy in Dundee before he joined The Black Watch.
He is survived by his mother Maggie and his four siblings Craig, Thomas, Natasha and Kirsty.
Following his death, Pte Elliott's family said, "Kevin was a loving son, brother, grandson, nephew, uncle and cousin who will be sorely missed by the whole family."
Sgt Millar joined the army in 2000 after serving in the Territorial Army and served in Northern Ireland, the Falkland Islands, Cyprus and Iraq.
The bodies of the two soldiers were flown back to RAF Lyneham in Wiltshire aboard a military transport plane. Pte Elliott and Sgt Millar who is survived by his wife Jillian and their young daughter Grace were given full military honours for their repatriation.
The inquest was held at Wiltshire Coroners Court, which was sitting at Trowbridge Town Hall.