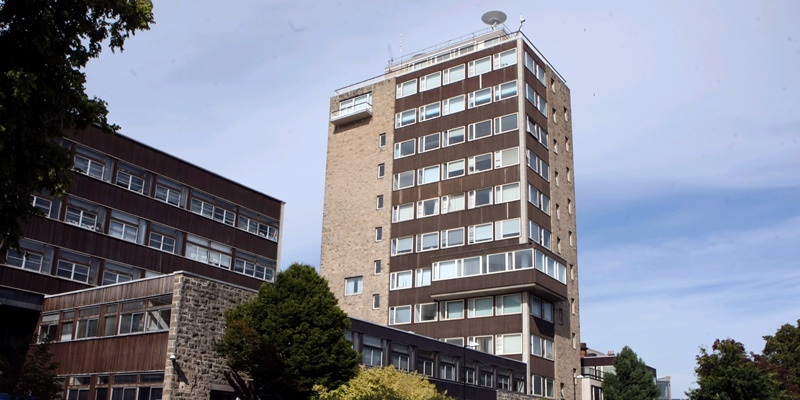 The 140ft Tower Building at Dundee University is to get a facelift to prevent a repeat of potentially dangerous debris falls.
Windows had to be sealed shut after a pane of glass crashed to the ground and almost hit students some years ago. Pieces of timber cladding have also fallen off.
The incidents have been revealed in documents submitted to the city council by James Paul Architects, who were asked to carry out a study of the exterior of the Perth Road building.
They explained: "Timber windows appear to be suffering from decay and were warping. Building users were complaining the windows were draughty.
"There had been one incident when a large pane of glass had fallen out of the window frame and crashed to the pavement below narrowly missing students."
Timber cladding also appeared to be in poor condition, with large areas decaying.
"There are safety concerns insofar as timber boards have been falling from the facade and landing near to pedestrians," the architects added.
The Tower Building is one of the best-known features of the campus. It was the first tower block in Dundee city centre and it houses the university's main administrative offices.
However, the architects make it clear that time has taken its toll on the structure and the timber frames and sills of the windows are nearing the end of their natural lifespan.
They said: "Timber elements are twisting, including window frames. This has resulted in windows not being able to close properly, causing them to be draughty.
"Many of the elements are suffering decay. This has led to certain timber boarding coming free of their fixings and falling to the pavement below," the report said.
The university has been facing high repair costs to make good defective timber. The requirement to stain and paint the timber every five years is also proving expensive as health and safety rules mean scaffolding has to be erected each time.
What is now being proposed to is to replace all the windows with double-glazed aluminium units and replace the timber cladding with thin, high-performance panels that would need maintenance only once every 20 years and would have space within them for insulation.
James Paul Architects said this would "guarantee the long-term future of the building" and reduce its energy costs by 40%.
A university spokesman said: "The university is in the initial stages of looking at renewing the timber cladding and windows in the Tower Building. The primary reasons for this are thermal efficiency of the building and its general appearance."
The spokesman added that the work would require some approval from Historic Scotland and no details of timescale or cost are yet available.