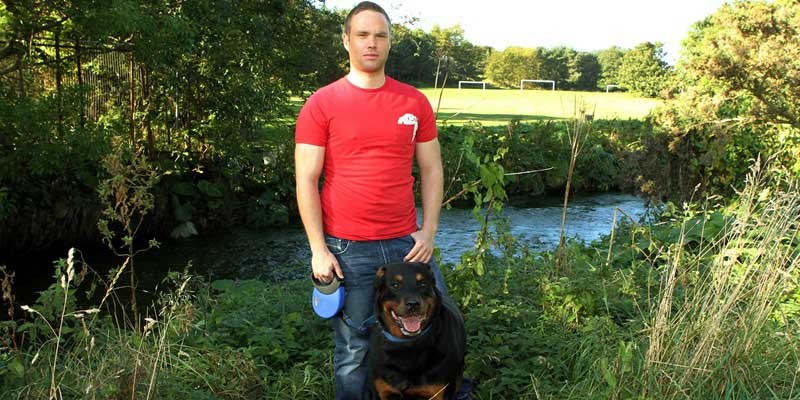 Scotland's environment agency has opened an investigation into a stretch of a well-known Dundee waterway following concerns it has been contaminated.
The Courier understands a number of dogs have been struck down by a mystery illness after swimming in the Dighty Burn, adjacent to Fountainbleau Drive near the Longhaugh Neighbourhood Centre.
Local man Jonathan Larg raised the alarm with Sepa officials at the weekend after his eight-year-old rottweiler Thorn suffered severe diarrhoea and sickness for four days.
The 32-year-old's suspicions were raised when he and his girlfriend spoke to other dog owners who had a similar experience.
"At first I thought the illness was down to something Thorn had eaten," Jonathan said. "I never got suspicious until my girlfriend spoke to one of her pals and she said all three of her dogs came down with the same symptoms. They had been in the same area of water at around the same time as Thorn.
"Then there was another woman I spoke to who said her dogs were in the water and came out with some sort of 'gunk' all over them."
A Sepa team collected water samples and carried out a visual inspection of the area. Jonathan now hopes they can uncover what was in the water.
"It was a surprise to think the water is contaminated," he said. "It's normally fast flowing so it may be the case that whatever was in there has now been washed away. But I hope Sepa do a thorough investigation and find an answer."
The recent wet weather may have washed chemicals and material from farmland and roadsides into the burn causing the spate of canine illnesses.
But Sepa has not given any indication on what the cause might be, with a spokeswoman saying: "Our officers have been out taking a look at the burn and collecting samples to see if there is anything that may have caused this problem in dogs. Those samples will be analysed and we will be able to say more once this work is complete.
"We would like to take this opportunity to encourage members of the public who are concerned about a pollution incident to contact Sepa as soon as possible, giving us as many details as they can."
She added: "You can contact our Arbroath office on 01241 874370 or Sepa has a 24-hour report line on 0800 80 70 60. All contact can be treated as confidential."