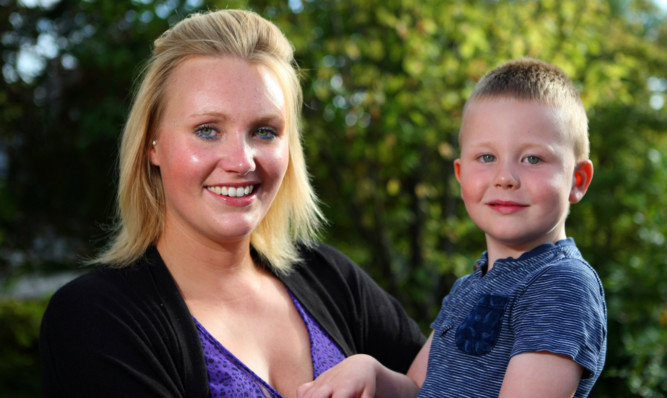 Those caught up in Tuesday's chemical leak emergency in St Andrews have been describing their experiences.
Twenty-nine-year-old Sophie Watson and her four-year-old son, Alfie Yule, were in a gymnastics class in East Sands Leisure Centre in St Andrews when it was evacuated.
She said: "We were just told we had to get out and all sent out to the front of the building.
"Fire engines started turning up and we kept getting told to move further and further back.
"They think it was a chlorine leak. They heard a bang in the plant room."
Sophie said a number of people received treatment outside the centre but that they did not seem to be seriously injured.
"I think it was just for people who were feeling a little unwell," she said.
She and Alfie had to take a taxi home from the centre because the car park was sealed off and would likely be closed for much of the afternoon.
"Alfie's still wondering what's going on," she added. "I'm just glad we weren't in the pool."
One man who was at the leisure centre when the incident happened said he heard a "big bang" and felt a stinging at the back of his throat.
Duncan Meekison's daughter and friend were among those treated at Dundee's Ninewells Hospital.
"He was sitting in the spectator area while they were in the swimming pool.
"There was an elderly woman next to me with two small children and we said it was time to get out," he said.
"The staff were brilliant. They set off the fire alarm and they got us out. The emergency services were on hand very quickly."
Also in the pool were the grandchildren of Betty Macdonald, 66, who was visiting from Lanarkshire.
She said her nine-year-old and 10-year-old granddaughters were swimming in the pool while she watched with a third grandchild, aged seven.
Ms Macdonald was ushered away from the car park by fire service staff before she could talk to The Courier about her ordeal.
Steve Smith, a worker with Kilmac Construction, said: "We took a dinner break and we were just sitting in the van. I looked up and basically saw an exodus of children and parents coming out of the pool and gathering at the left hand side of the road.
"We didn't hear the alarm inside the van. We didn't realise there was a chemical leak until about half an hour later."
Also working at the adjacent building site was painter James Hitchings. He said: "We were on-site when it happened. There had been a practice fire alarm about an hour before.
"All the people from the pool were out. I think they were getting people off the beach as well.
"There were maybe two or three guys with towels around them and eight or nine women with towels around them, then a couple of kids.
"It wasn't really bad. We never saw anybody being stretchered out or anything like that."
Neighbour Val Orr described how emergency vehicles descended on the street.
"I think there were about five ambulances," she said.
"I didn't know what was going on until I saw it on Facebook."
Local resident Robert Ovenstone, 46, said: "I've been here for eight years and I've never seen anything like this.
"There was men in big green suits going into the building and then people in their swimming costumes coming out. It was like something off television."
As well as the swimmers taken to hospital, a group of construction workers working on a site next to the centre were evacuated, being told that the area "was too toxic" for them to retrieve their vehicles and tools.