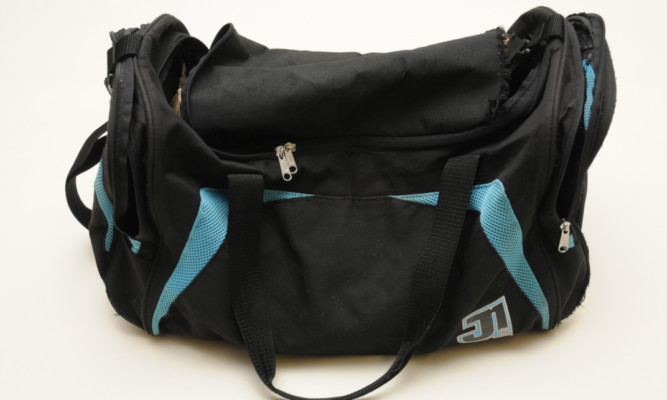 Police investigating an armed robbery at a bank in Kirkcaldy have released more details about the incident as part of their ongoing hunt for a suspect.
Detectives have released images of a distinctive holdall which a taxi driver was asked to carry into the Bank of Scotland in Mitchelston Industrial Estate on Wednesday, November 11, as part of an elaborate plan to take cash.
The terrified taxi driver, who was abducted and forced at gunpoint to enter the bank and had a ransom note over to staff, was led to believe there was some sort of explosive device in the bag, and officers hope pictures of the holdall will help jog someone's memory as the search for witnesses goes on.
Due to the swift response by police, there was no opportunity for the taxi driver to hand over the bag to the robber, who remains at large.
Detective Inspector Charlie Duncan is leading the investigation and said: " I would like to thank the members of the public who have come forward so far, in particular the assistance afforded to us by the local taxi firms.
"I am keen to speak with anyone who may have seen a male in the Lochgelly area between noon and 1pm on Wednesday November 11.
"I have released a photograph of a holdall used during the robbery, which I know the male responsible was carrying before he entered the taxi, which drove him from Lochgelly to Kirkcaldy.
"It is an old JAKO, J1 sports holdall, which is no longer on sale.
"I would urge anyone who has seen one similar belonging to a person they may have concerns around to come forward."
An extensive investigation, led by a dedicated team of detectives, is ongoing with officers analysing local CCTV footage, carrying out door-to-door inquiries and pursuing intelligence-led information.
Officers have also released an image of a Volkswagen Caddy Van seen in the Mitchelston Industrial Estate.
"We are also interested in tracing the owner of a black Volkswagen Caddy van seen entering Mitchelston Industrial Estate directly behind the taxi used in the robbery," DI Duncan added.
"The vehicle is seen to park in the service area near to Martin Plant Hire on Carberry Place, Kirkcaldy about 1.10pm and leave again about half-an-hour later.
"The van is a 2004-2010 model with a distinctive tailgate opposed to the more conventional double rear doors. I need to eliminate this vehicle from our enquiries.
"On leaving the estate the driver turned left onto Earn Road, Kirkcaldy and may have been working in the area.
"In addition, I want to speak with a member of the public who walked past the snack van, parked directly outside the BMW garage on Carberry Road, Kirkcaldy at around 1:20pm and walked past the taxi, which was parked further up Carberry Road.
"I believe the person responsible was still seated within the taxi, when this male passed or may even been exiting as he was approached.
"It is vitally important we trace this person, as there is no CCTV covering this area.
"The male is about 20-25 years of age, he was wearing a very distinctive two tone blue and white jacket or tracksuit top, with a white panel around the waist.
"He was also wearing blue jeans and trainers."
The suspect is described as white, 5 foot 6 inches tall, of heavy build and wearing a dark green baseball cap, a dark green scarf, a thick dark blue jacket, tracksuit bottoms and sunglasses, is still at large, although the four figure sum taken from the bank was recovered almost immediately after the incident by police.
He got into a taxi near an industrial estate in The Avenue, Lochgelly, before holding up the driver at some point en route to Kirkcaldy.
Officers are still keen to discover how he managed to flee the scene after the incident.
Anyone with information should contact 101 or Crimestoppers on 0800 555 111.