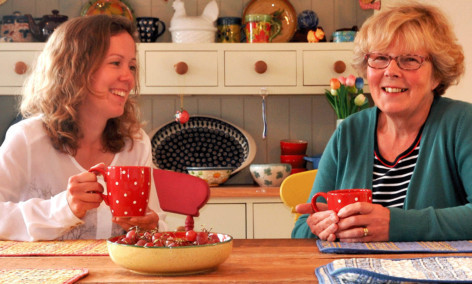 If Christmas card sales are struggling in 21st century Scotland against a tide of festive text messages and narcissistic Facebook updates, then Fife-based businesswoman Marion Mitchell and her family are bucking the trend with a range of handmade embroidered greetings cards.
As a child, Marion was forever making things and drawing.
She's always loved colour, pattern sand texture.
So it was a simple decision to go to art college and study textile design and embroidery.
After a short career in teaching and producing embroidered pieces for exhibition, she took a career break to look after her two children.
It was then that the idea of creating a small business was hatched, where she could be a stay at- home mum but work at the same time.
The family had just moved into their secluded country cottage with the children and the cat, and it all just fell into place their own cottage industry and Embroidered Originals was born.
"The first cards were tiny versions of my embroidered pieces, hand stitched and embellished with sequins and beads,"she sayd. "Starting off selling moderate numbers at local craft fairs, the designs have since developed over the years and grown into the "Wee Wishes" range, a huge catalogue of Scottish themed greetings cards."
Marion's unique take on all things Scottish gives Embroidered Originals' range of keepsake cards their quirky humour and iconic imagery.
Thistles and Scotty dogs sit happily alongside more tongue in cheek tartan shopping trolleys and dressing gowns.
Fish and chips, scotch pies, tartan umbrellas and wellies testify to the favourite Scottish themes of food and the weather!
Marion smiles when she thinks back to those early origins. She says: "Initially it was a small kitchen table business with me producing hand embroidered cards which I sold at craft fairs throughout Scotland.
"As the business grew we took the decision, as a family, to bring my husband into the business full time. I needed another pair of hands as the business was growing and Bob was also an art teacher with a background in Illustration. It paid off and it enabled us to start selling to shops and galleries throughout Scotland."
"Over the years the cards have become more and more Scottish and I inherited, from my father, a love of Scots' language."
Marion's poems, which form a major part of the designs, make liberal use of favourite Scots' words and banter.
A generation after her mum, Marion's daughter Laura graduated from the same course at Duncan of Jordanstone College of Art in Dundee with first class honours in printed textiles.
She's recently joined the business and helps out with all aspects including developing the design and handcrafting process involved in making the cards. Mother and daughter share an appreciation for surface design in all its forms and incorporate their love of all things patterned into their work.
They start off by creating appliqued designs using a wide variety of tartans and fabric which are then embellished with hand painting and embroidery, scanned and worked on using computer aided design processes and printed on to textured card. They are then finished with rich, hand-painted detail in dimensional paint.
"So history has repeated itself and we've been able to employ Laura, now herself a mother of two, in a senior position, but at the same time giving her the flexibility to work around school hours."
With the run up to Christmas the months of October and November have been the busiest of the year for the Embroidered Originals team.
Marion adds: "However late we work we always find the time to sit down and discuss future developments over coffee and we're excited about new product launches for 2016 including calendars, mugs and other stationary products."