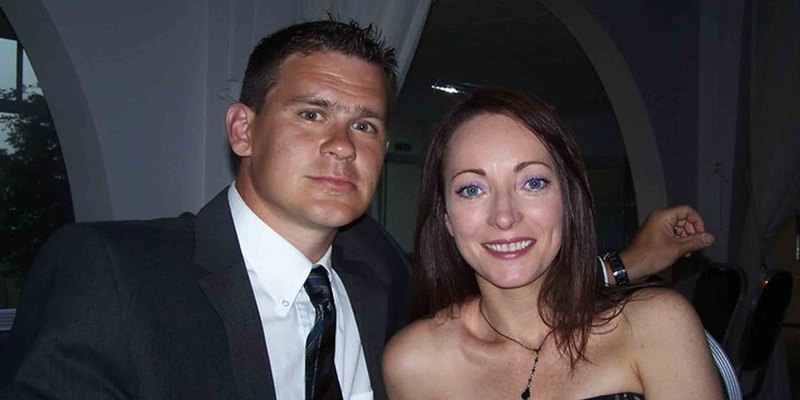 Heartbroken Fife Flyers player-coach Todd Dutiaume has paid an emotional tribute to his pregnant wife Kelly and their unborn twins, who died suddenly on Monday in tragic circumstances.
In a statement issued by police on behalf of him, his three-year-old daughter and the rest of the family, Mr Dutiaume said: "At a time which is supposed to be the most joyous of our lives this tragedy has turned our world upside down.
"Kelly was a fantastic mother, wife, daughter and one of the gentlest and kindest individuals you could ever hope to have in your life. Myself, Olivia and all the family would like to thank everyone for their support, kind thoughts and wishes at this very difficult time."
It is understood Kelly, who was eight months pregnant with twins, may have suffered a heart attack. It is believed an ambulance was called by Todd and that she died en route to hospital.
An emergency caesarean was carried out to try to save her unborn babies.
A lifelong Fife Flyers fan, Kelly met Canadian-born Todd, also 38, more than a decade ago after he arrived as a player at the Kirkcaldy club. The couple married in 2005 and have a three-year-old daughter, Olivia.
Tributes have been pouring in from far and wide. Bouquets were placed outside Fife Ice Arena in Kirkcaldy, and poignant and simple messages on cards were accompanied by ice hockey tops, soft toys and candles.
Among the tributes was a message which read: "Three new stars burning brightly light up the sky every night. RIP Kelly and twins."
Another said: "Deepest sympathies and condolences, so tragic. Our thoughts are with you all."
Another said: "RIP Kelly and twins. Three gorgeous new angels in heaven watching down over you Todd."
A fourth said: "To the Dutiaume and Hamilton families. Our deepest sympathies are with you all at this tragic time."
Tribute also came from Kelly's former secondary school.
Margaret Fraser taught English at Kirkcaldy High from 1977 before taking early retirement in 2000. She was also a guidance teacher.
It is around 20 years since Kelly Hamilton, as she was then, left school but Margaret remembers her being in her guidance group.
She told The Courier: "It's 20 years ago but my memories of her are very positive she was a very pleasant, friendly girl, and a clever girl."
No one at Fife Ice Arena was available for comment, but the directors and management of Fife Flyers have expressed their shock and sadness at the tragedy with tributes pouring in on Facebook from ice hockey fans across the UK and beyond.
After discussions between the Flyers team, management and supporters club the decision was taken to cancel a soon-to-be-held supporters club race night and the end-of-season awards night.
Anyone who has bought tickets for either event or bought horses for the race night will receive a full refund, the club said.