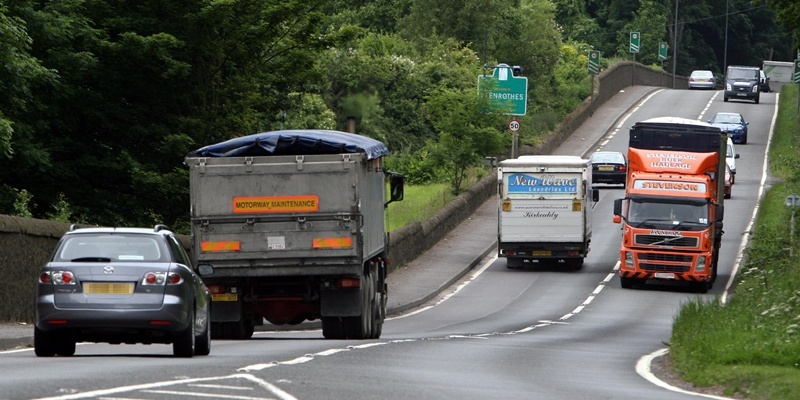 More than 7300 drivers have been caught speeding on one of Fife's deadliest roads in the past four years, according to figures obtained by The Courier.
Statistics gathered under freedom of information legislation show that between 2007 and last year 7326 motorists were issued with a fixed penalty notice for breaking the speed limit on the A92.
The figures, from the Fife Safety Camera Partnership, show the true number of drivers caught speeding on the road, despite a 54% reduction over the four years.
In 2007 there were 2785 fixed penalty notices issued, reducing to 1811 in 2008. In 2009 this fell to 1439, before reaching 1291 last year.
Partnership manager Andy Jones said that, while people had become more aware of cameras and their locations on the A92, deployments would continue to clamp down on those who speed in Fife.
He said, "Drivers are more aware of the cameras and our mobile operations.
"Obviously we have people reporting where we are, but we are there to protect communities. We will strive to deploy as much as possible."
The figures show that the partnership cameras at the Lochgelly to Cowdenbeath junction exposed the largest number of drivers exceeding the speed limit, with 1765 flashed over the four years.
The Thornton bypass was another hot-spot, with 1340 motorists issued with fixed penalty notices.
The controversial Balfarg junction, where a local group has fought a sustained campaign for safety improvements, saw 316 drivers issued with penalties less than both Letham and Ladybank.
Although acknowledging that the bulk of the offences recorded have been in the south of Fife, Mr Jones stressed that the partnership is stepping up activity on northern stretches of the road.
He said, "The A92 is our primary route. There are two distinct areas in that we have rural parts and a dual carriageway.
"But we've upped the ante on the New Inn to Dundee stretch recently as we still get people driving at excessive speeds."
Fife Constabulary deputy head of road policing Inspector Brenda Sinclair said, "Our operational emphasis is to maintain a high-visibility presence on the roads, especially the major trunk routes through Fife particularly the A92, as this provides a reassuring visible presence to members of the public as well as acting as a deterrent to those who may offend.
"Additionally, targeted patrols are undertaken in areas where members of the public raise concerns about speeding or where there is intelligence indicating that speeding occurs, and the A92 is one of those targeted areas."
Used by thousands of motorists every day, the A92 stretches throughout Fife, linking the Forth and Tay road bridges. The route is no stranger to accidents, however last year alone there were four fatalities in Fife.