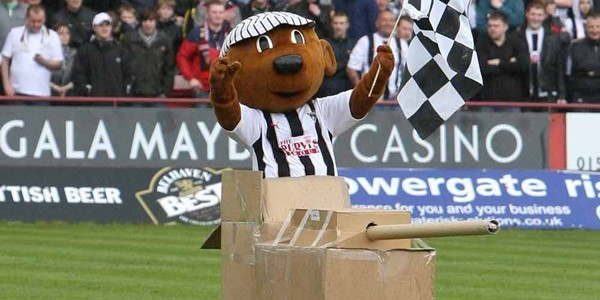 Dunfermline and West Fife MP Thomas Docherty has condemned the actions of Dunfermline Athletic's mascot Sammy the Tammy prior to the weekend local derby with fierce rivals Raith Rovers, describing them as "unnecessary."
The mascot has faced stern criticism for his pre-match stunt where he faced the opposing support in a cardboard "tank" complete with accompanying "gun" noises from the stadium's PA system.
Fife Constabulary have said they are to take up the matter with the Pars and the individual.
The Courier understands that "Sammy" will be questioned by officers today about his antics, which were labelled "disgraceful" by Raith Rovers Football Supporters Club chairman Gordon Adamson.
Mr Docherty a regular at East End Park said he had accompanied the police on the day of the match to gain an insight into how they work on such an important sporting occasion.
He was quick to point out that he didn't approve of the behaviour of Sammy the Tammy.
"I saw what he did and know that the Raith support didn't see the funny side of it. I think it was unnecessary," he said.
"In the context of everything else it wasn't particularly clever.
"I have spoken to the Dunfermline directors and have been reassured that no one knew in advance of what Sammy was planning.
"It's good banter and I applauded as he left the park. Good support from Raith, amazing numbers from the Pars and is what Saturdays should be all about.
"Sammy is the same every week with his antics and people should have been expecting it."
However, one disgruntled Pars supporter said, "Sorry but I am going against the majority on this as it was not funny in the slightest and the guy and whoever played the accompanying sound effects should be facing police charges.
"How anyone can sit before a game and think up this kind of routine when the country's young men and women are putting their lives on the line in war zones is beyond me.
"Just the other week the town of Kirkcaldy buried a young Lance Corporal-how would any of his family or friends feel watching that?
"Sometimes, and I mean only sometimes, he is funny but yesterday he stepped over the mark and the club, as should all clubs, should be monitoring before games what their mascots intend to do on the football park."
A spokesman for the club said, "Dunfermline Athletic FC would like to apologise to any supporters at the match on Saturday who were offended by our mascot Sammy the Tammy.
"The club are disappointed with the content of Sammy's programme and will be dealing with the matter internally."