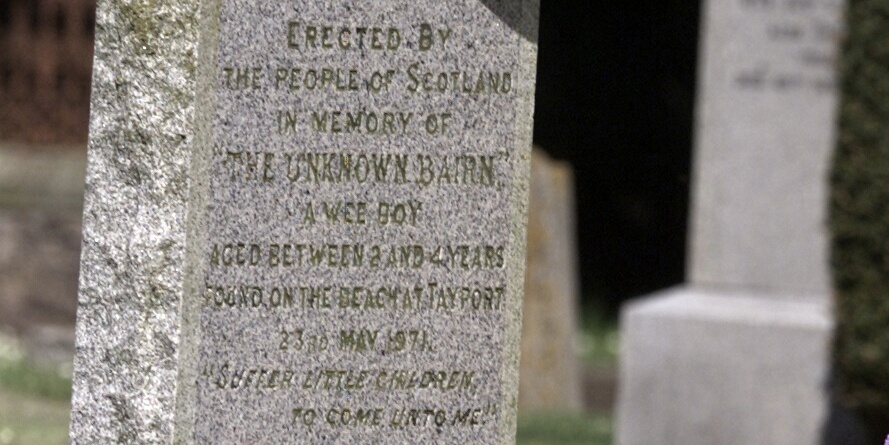 A bewildering and troubling case will be remembered in Fife today, 40 years after "The Unknown Bairn" was found dead on a windswept beach near Tayport.
The tragic tot, who is thought to have been 2-4 years old, is buried in the town.
A hunt for the toddler's parents was launched following his death but no definitive clues emerged, and the case file remains open.
On May 27, 1971, the body of the little boy was laid to rest, with many of those attending the ceremony describing it as the saddest funeral they had ever seen.
There are a number of theories concerning what may have happened. Chief among them is the suggestion he belonged to a gypsy couple who were unable to meet the costs of dealing with the death, which is not thought to have been in any way suspicious.
The best lead appeared to be a traveller couple overheard as they boarded a bus speaking about a little boy they had lost.
Bob Beveridge, owner of the Violin Shop in Falkland, is a former Scottish crime squad detective who was involved in the inquiry. He believes the couple may have had vital information about what happened.
However, he admits there was no real evidence tying them to the tragic boy's body.
"When questioning the couple, who had been drinking, we found they had been staying in the area around the time all this happened," Mr Beveridge recalled. "The woman became more and more distraught and started saying things her male companion obviously did not wish her to say.
"He became quite aggressive towards her and told her to be quiet and say no more. Although they never admitted the child was theirs they never actually categorically denied it. It would have been interesting to pursue the matter further with the woman alone, but the evidence was all circumstantial."
Mr Beveridge believes that had the death been contemporary, modern technology would have led to the case being solved.
"If we had had DNA testing in those days that would maybe have helped to settle it there and then," he reflected.
Whatever the truth of the story, many Tayport residents will today in their own, quiet and respectful way pay tribute to a youngster destined to be forever called "The Unknown Bairn".