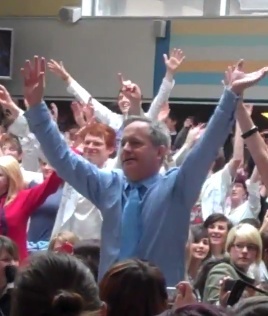 A video of teachers dancing in their school canteen is causing an internet sensation.
Teachers at Bell Baxter High School in Cupar break into a routine to a medley of songs including YMCA, Thriller and The Time Warp to entertain senior pupils who are leaving.
Led by rector Philip Black, staff perform what appear to be rehearsed steps to rapturous applause and whooping from pupils.
The routine has been watched over 4000 times on YouTube.
The entertainment occurred during a flash mob in the school's packed canteen as pupils broke off for exams. Mr Black is seen initiating the action to the Village People hit and is quickly joined by several others.
The apparently unexpected performance goes down a storm with those watching and a number of pupils join in with the actions.