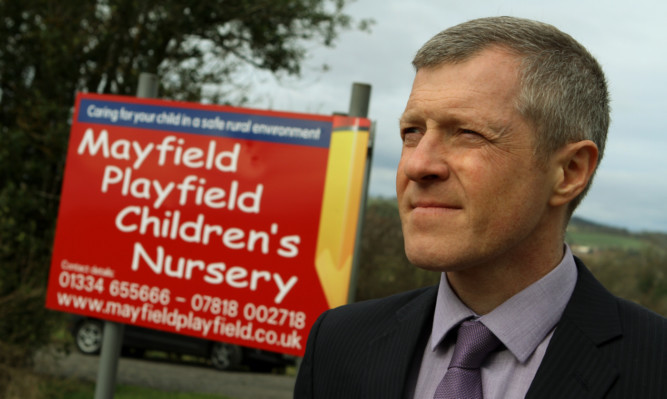 Parents in Cupar are facing an anxious few weeks after the shock news that two of the town's three pre-school nurseries are to close.
The privately-owned Mayfield Playfield on the outskirts of the town will close its doors on March 31 after again failing to secure partnership funding from Fife Council which would have allowed it to provide free hours for three and four-year-olds.
The blow follows news earlier this month that Little Beehives Nursery at Elmwood College would close when Fife College withdraws from the campus in the summer.
Little Beehives managing director Jennifer Martin said the business would no longer be viable due to the anticipated drop in student numbers.
The nursery will merge with the firm's other nursery in the town at Tannage Close.
Scottish Liberal Democrat leader Willie Rennie said the fact two of Cupar's three nurseries were closing would leave parents with real childcare problems.
Mr Rennie, MSP for mid Scotland and Fife, was contacted about the issue by a worried parent whose son attends Mayfield Playfield.
"This leaves only one nursery in the town and lots of mums with very few weeks to find alternative spaces for their children," the woman said.
Mr Rennie called for Fife Council to act in a bid to help those affected.
"We need answers for why the Mayfield Playfield is closing and whether there is any connection with the council's partnership status model, which I have previously questioned," he said.
"In the meantime, we need swift action from the council to coordinate this extraordinary situation."
It is understood that unlike many other local authorities, Fife Council decides which nurseries receive partnership funding, which enables parents to access 15 free hours per week in line with Scottish Government policy.
Carrie Lindsay, head of education and children's services (early years and early primary), said: "We are happy to work with any parent who is worried about their provision of early learning and childcare as a result of the potential closure of one private nursery and the amalgamation of two nurseries into one.
"We have already supported a number of parents to help find alternative places and further spaces are still available in local authority nurseries in the Cupar area.
"Parents should contact their preferred nursery in the first instance or the early years team on 01592 583146 or email EarlyYears.Manager@fife.gov.uk."