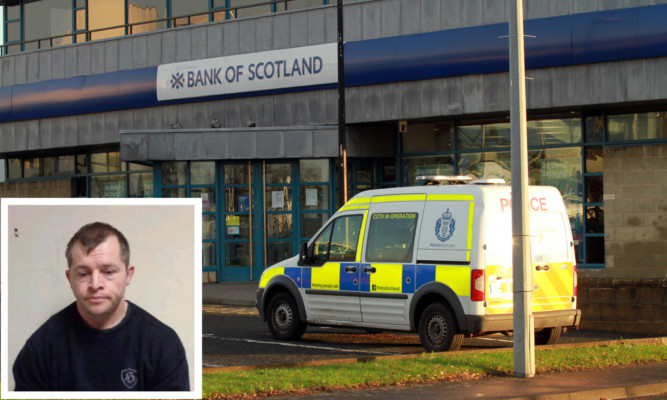 A gun-wielding Fife gym instructor who sparked terror after forcing a taxi driver to rob a bank for him while carrying a bag of "bombs" has been jailed.
Andrew Patrick, who pretended to be Polish, ordered the cabbie to steal cash from the Bank of Scotland branch on Kirkcaldy's Carberry Road.
Mr Rankin was told to hand over a chilling note to staff which claimed they had only minutes to fill the bag and that devices would go off if police were called.
However, when the taxi driver eventually left the bank with almost £10,000, he found that Patrick had already fled the scene empty handed.
Amid dramatic scenes, a team of armed police and an army bomb unit soon arrived, though the explosives found to be fake.
Each consisted of little more than tubes, cotton wool and a mobile phone circuit board.
Patrick was later caught following a high-profile media appeal although he initially denied being involved.
The 40-year-old is now behind bars after he admitted a charge of assault and robbery at the High Court in Glasgow.
The first offender had been working at the time as an instructor at the Fitness Factor gym in Kirkcaldy but apparently cooked up the scheme to alleviate "some financial difficulties".
He called a taxi to an industrial estate in Lochgelly on November 11 last year using a fake Polish accent and jumped in clutching two holdalls and disguised with a cap, sunglasses and scarf.
He directed Mr Rankin to a dead-end and then pulled a firearm on him, which turned out to be an imitation, and said: "You'll be safe if you do what I say."
The High Court heard that as Mr Rankin was forced towards the bank a short time later he pleaded with a passer-by: "I am a taxi driver there is a boy in my taxi with a gun. It's not a wind-up."
Once in the bank, he told a staff member that he had been ordered to hand over the typed note.
It stated: "There is a transmitter in your bank and the lines are wired. We can hear you and know if you try to call police. There is a bomb strapped to this man… also in the bag. They can go off if transmitter detect signal or call."
The note also said staff should not "panic" and that once money was received, Mr Rankin would return with a code to deactivate "the bombs".
It also informed them they had four minutes to fill a bag with money.
Despite the warnings, police were alerted and the note was read over to them. A security alarm was also pressed.
Lord Bannatyne remanded Patrick, of Lochgelly, in custody and deferred sentence until next month for reports.Caught out by mobile phoneOnce it became clear the taxi driver had been an unwilling pawn and the bombs barely-concealed fakes, police officers stepped up the hunt to catch the man behind the raid.
Patrick matched the description of the suspect and had also failed to turn off his mobile telephone, enabling investigators to place him in the area at the time of the crime.
This led to his home, car and place of work being searched, with the search of his workplace proving particularly enlightening.
Paperwork was found at the gym which showed he had money troubles and a cap similar to that worn by the man who had threatened Mr Rankin was discovered.
A colleague had also discovered an email on computers at the gym in which it appeared Patrick had prepared his letter to bank staff.
One, in the "drafts" section included the words "there is a bomb", while a second read "bomb is strapped, put the money in the bag, not to panic".
It also emerged that on the day of the robbery, Patrick had been asking customers at the gym if they knew what had happened.'Terrifying experience'Glasgow High Court heard the raid had taken its toll on all involved.
Mr Rankin was said to suffer from flashbacks, insomnia, anxiety and fear, while bank staff had been left "extremely shaken".
Detective Inspector Stewart Andrew of Kirkcaldy CID said: "This was a terrifying experience for the taxi driver who was called to pick up a fare and subsequently forced to participate in a robbery.
"He must be commended for his bravery throughout, especially given the threat of an alleged explosive device, and his help during our investigation.
"I also want to praise the bank staff for their courage, and thank the people of Kirkcaldy."