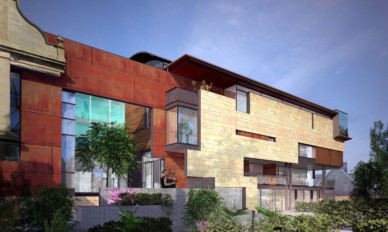 Work to build Dunfermline's long-awaited museum and art gallery has started.
The multi-million-pound project part-funded by the Heritage Lottery Fund will see the new facility integrated with the surrounding listed buildings, including the world's first Carnegie library.
Dunfermline area committee chairwoman Helen Law said: "This is a hugely ambitious and exciting project for Dunfermline. The facility will bring an impressive new focal point to the heritage quarter and wider town centre.
"In future it will be an important contributor towards the economic growth of Dunfermline's town centre."
Fife's community health and wellbeing spokesman, Gavin Yates, said the complex project has had a long lead time and so it was great to celebrate work starting on what would be a "remarkable" place.
"It will undoubtedly raise Dunfermline's cultural profile and help to increase tourism to the area," he said.
The community, too, is already playing a big part in the project more than 250 volunteers have taken part in activities such as the archaeological dig and packing up of the library's Robert Burns Murison Collection. Mr Yates said he hopes to see more of these community-based projects during the two-year construction period.
Colin McLean, head of the Heritage Lottery Fund in Scotland, said: "We are now a major step closer to this medieval capital having a museum that reflects its importance in Scottish history.
"Now the physical work is under way, we look forward to seeing it begin to take shape as a contemporary cultural hub and a gateway to Dunfermline's remarkable heritage attractions."
The vice-chairman of Carnegie Dunfermline Trust, David Walker, said: "Developing and literally building on the first Carnegie library to introduce this major new facility is something that Andrew Carnegie would have been proud to see in the place of his birth."
Doug Keillor, regional director for BAM Construction, tasked with building work, said: "The level of detail we've gone into during the planning stage should allow us to deliver a showpiece building on time and budget."
Fife Cultural Trust will run the building on behalf of the council.