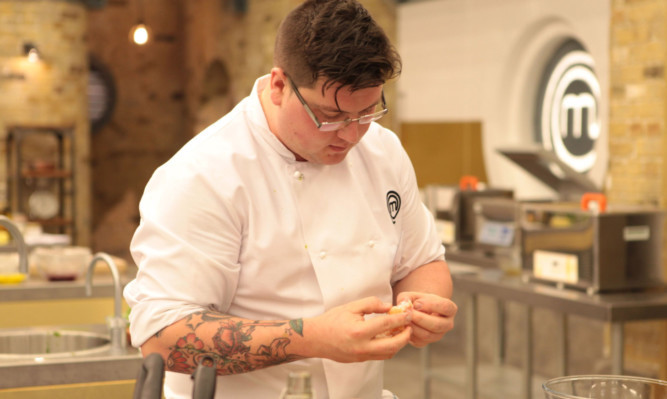 St Andrews chef Jamie Scott will put his cooking skills to the ultimate test when he takes part in the final of MasterChef: The Professionals on Tuesday.
The 27-year-old has made it to the final three of the prestigious competition where he will be up against 32-year-old Brian McLeish from Aberdeen and Sven-Hanson Britt from Bishop's Waltham.
The three chefs will each have to make a three-course meal on Tuesday's programme and the judges' favourite will be named winner of the popular show.
Winners of earlier series have gone on to work in some of the world's most-respected restaurants and 2012 joint winner Anton Piotrowski has now been awarded a Michelin star, the first former contestant to be given such an accolade.
Jamie lives in Arbroath but currently works at Rocca Restaurant in St Andrews.
During this year's competition he has been put to the test in some of the world's most daunting kitchens.
He spent a day in Mayfair's Connaught Hotel under the tutelage of two-Michelin-starred French chef Helene Darroze.
He was then sent to experimental Spanish restaurant Mugaritz where chef Andoni Luis Aduriz described Jamie's food as "delicious, brave and outstandingly beautiful".
Jamie then won his place in tonight's grand final by wowing judges Marcus Wareing, Monica Galetti and Greg Wallace with his cooking in the Masterchef studio.
He won high praise for his rabbit dish, which led head judge Marcus Wareing to declare: "If I was a rabbit that's how I'd like to be cooked and served."
Although the programme is pre-recorded, Jamie has been sworn to secrecy about the result.
As well as Jamie, a number of chefs with connections to St Andrews have enjoyed success in MasterChef: The Professionals over the past two years.
Last year Scott Davies, a chef at The Adamson in St Andrews, and Adam Handling, who worked at The Fairmont, both reached the final of the prestigious competition.
And Jamie's opponent in tonight's final, Brian McLeish, also worked at The Fairmont.
MasterChef: The Professionals is on BBC2 at 8pm on Tuesday December 23.