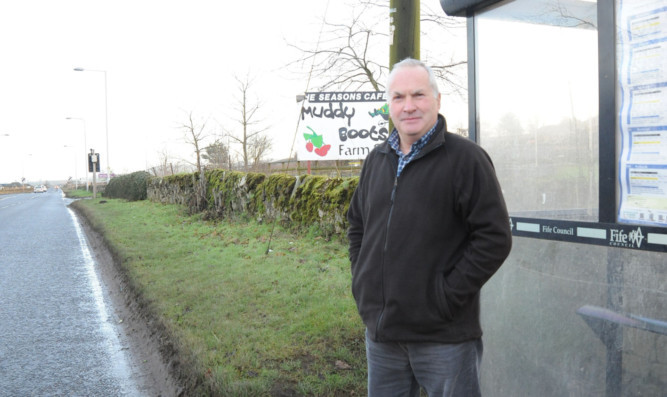 Cash-strapped Fife Council has defended its decision to spend £12,000 on a proposed 45-metre stretch of pavement in a tiny village that a local man claims "no one will use".
Former Kettle community councillor Andrew Blankenstein, a retired quantity surveyor and finance manager, said he is angered that Fife Council is to put in place the stretch of pavement in Balmalcolm, between the westbound bus stop on the A91 and farm shop business Muddy Boots.
Contacting The Courier as the council's transport service faces potential budget cuts of £7.5 million over the next three years, he said: "In these times of austerity we have to question if this pavement can be justified and whether the pavement will ever be used.
"Ninety-nine per cent of Muddy Boots customers come by car and there is already a perfectly adequate footpath on the other side of the road. Anyone arriving by bus would have to cross the road to get to the bus stop to go home again, anyway. It strikes me as crazy."
A Fife Council mail-drop to houses in Balmalcolm this week states work, lasting a week, is due to go ahead next week. The project will include the laying of new kerbing and a 1.5-metre-wide asphalt surface.
Mr Blankenstein, who has links with Balmalcolm going back 60 years, added: "The daft thing is that when Muddy Boots opened they had a path from the bus stop on their own ground but it became neglected and overgrown.
"How can Fife Council justify spending this money on a path which is unlikely to be used by locals and unlikely to be used by many visitors to the village? There are plenty other things needing fixed in the village. Holes in walls and the like."
Contacted by The Courier, Howe of Fife Lib Dem councillor Donald Lothian said: "My understanding is that the proposal to extend the footpath from the south-bound bus stop to the entrance to Muddy Boots will involve the building of 45 metres of pavement at a cost of around £10,000 ahat the request came primarily from bus users.
"Of course money is tight but, on balance, I think the new pavement will be of benefit to both bus users and Muddy Boots."
Howe of Fife Conservative councillor Andy Heer said: "The footpath seems like a perfectly logical extension of the pavement, to me.
"At present, anyone going to or from Muddy Boots using the bus stop on the south side has to cross a busy main road for a couple of hundred yards, possibly accompanied by children, and then cross back again.
"It's just plain daft to have no footway connecting the nearby bus stop to a local tourist attraction."
Colin Stirling, Fife Council traffic management lead professional, said: "The new footpath will provide a safe link to the bus stop for those visiting Muddy Boots.
"The scheme has come about following concerns from bus users. They were having to either walk along an uneven and muddy verge or cross the busy A914 twice to access the eastbound bus service.
"Transportation services design team formally consulted with the local community council in early November 2014. The final costs of the scheme are estimated to be around £12,000. Works are expected to start next week."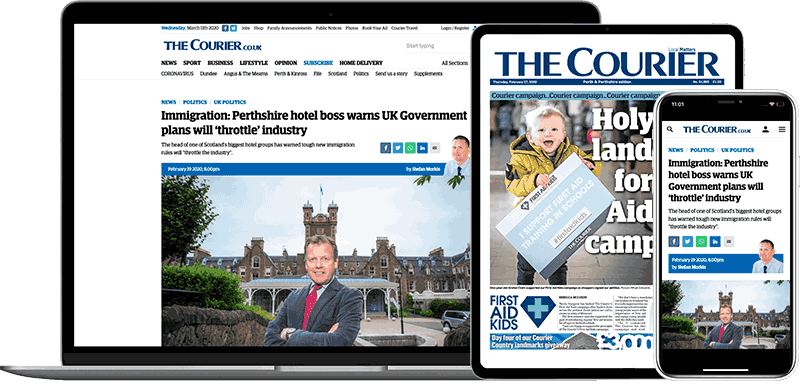 Help support quality local journalism … become a digital subscriber to The Courier
For as little as £5.99 a month you can access all of our content, including Premium articles.
Subscribe