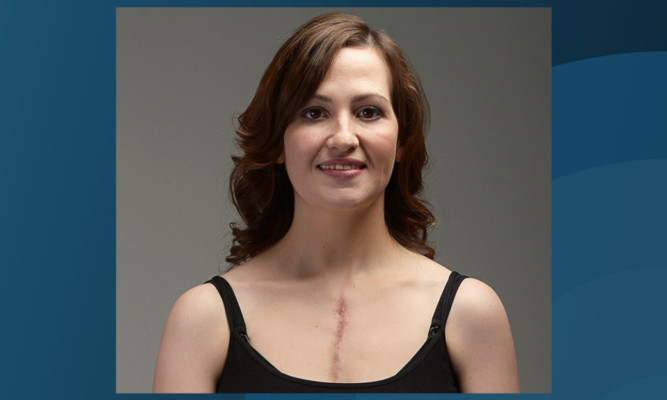 A pair of Fifers have bared their hearts for art in the run up to Valentine's Day.
Roderick Skinner and Heather McDougall are two of the heart patients featuring in a photo exhibition at Kelvingrove Art Gallery and Museum which will be opened by Scottish Government minister Jamie Hepburn today.
Scarred FOR Life is a photo exhibition of eight adults born with congenital heart disease baring their scars in celebration of life.
The exhibition was created by three friends with congenital heart disease Dr Liza Morton, Caroline Wilson and Jenny Kumar on behalf of adult heart charity the Somerville Foundation to raise awareness of how its impacts on adult life and to change the perception of scars.
Mr Hepburn said: "This is a very moving and valuable exhibition which shows the human face of congenital heart disease, a condition which affects thousands of people in Scotland.
"The people who have courageously volunteered to feature in these photographs are a real inspiration to us all."
Photographer Kirsty Anderson transformed eight participants into works of art, which will be on display in the Central Hall until March 15.
The models represent a diverse range of heart conditions.
They include Heather McDougall, 29, a research scientist who was born with Shones Syndrome, a rare combination of four left-sided congenital cardiac anomalies.
She said: "I count myself lucky that next year I will be turning 30. However, I would rather be 21 again."
Heather was born a healthy baby but quickly deteriorated after six months.
A consultant said if the condition had not been spotted she may not have lived. Open heart surgery saw her first artificial valve fitted and she has since had three further similar operations.
She said: "I've never hidden my scars but neither was I proud of them.
"At university I met a friend with Crohn's disease she made me realise I should be proud. As she said it: scars are earned, tattoos are bought."
Heather doesn't let her condition hold her back she has completed a BSc, PhD, and married and is now mum to two daughters, Ailsa and Iona.
She said: "I feel very blessed and thankful for my scars. If I didn't have them I wouldn't be here."
The other Fife model, Roderick Skinner, 72, is a former EU civil servant who had a bypass and a replacement of aortic valve with a He said: mechanical valve.
"The night before my surgical procedure, I well remember studying my chest in a mirror and thinking 'this is the last time I'll look whole'. The next day I awoke with the long and deep incision, which had been necessary to remedy my various cardiac faults."
As he recovered he became more aware of the scar and took to wearing a T-shirt to hide it from others.
"But then I came to realise that I was actually hiding it from myself and that without the scar there would, in fact, be no me," he said.