 Councillors have united in their condemnation of those who set fire to an Oakley house at the weekend, forcing a neighbouring family to flee to safety.
And they have called on the close knit local community to come forward if they know who was behind the blaze, which has virtually destroyed the property, and give any information to the police.
The fire broke out in an empty house in Thorn Tree Place in the early hours of Sunday morning.
Several youths were seen in the area.
Residents in the cul-de-sac smelled smoke coming from the semi-detached house which sits at the head of the street.
Flames spread quickly but luckily the family thought to be a mother and two grown up children living next door escaped from the fire, which Fife Police have confirmed they are treating as suspicious.
Two fire fighting crews from Dunfermline were quickly on the scene and they were soon joined by a third crew.
At one point the firefighters ran out of water as they fought to control the blaze which tore through the two storey house and eventually caused the roof to collapse.
Meanwhile police on the scene evacuated residents from other properties in the small cul-de-sac in the fear the fire might spread to other homes.
Fortunately that fear was unfounded and families were soon able to return to their homes.
However, the family living in the neighbouring property to number 17 have not yet returned.
Part of their roof remained covered by a tarpaulin and a pall of smoke hung over the area on Monday.
In the aftermath of the fire, neighbours described the empty property, which is believed to have lain unoccupied since its elderly occupants passed away and their grandson moved to England, as a "doss house" which had caused neighbours problems.Mindless thugsSeveral councillors urged the community to help bring those who may have been involved to justice.
Gerry McMullan said, "This is a law abiding family driven out of their own home by the action of mindless idiots it's an absolutely horrendous situation to be in.
"Lives have been put at risk if it has been started deliberately then what we are facing is the fact an extremely serious situation where mindless thugs have put a lot of people's lives at risk.
"That is totally unacceptable."
Bill Walker said, "I agree with that, Oakley is a decent area, an old mining village and a decent place to live.
"It is shocking anyone would do that."
Willie Ferguson urged anyone with information to go to the police.
"Oakley is a tight community, and somebody will know something, I am sure," he said.
"I say to them try and assist the authorities because this fire could have had fatal consequences."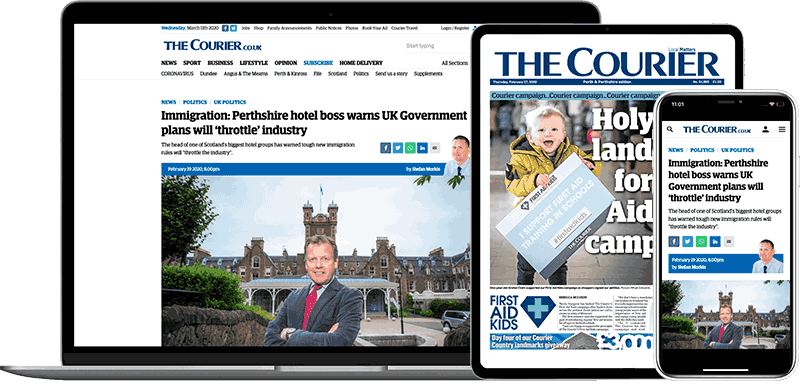 Help support quality local journalism … become a digital subscriber to The Courier
For as little as £5.99 a month you can access all of our content, including Premium articles.
Subscribe