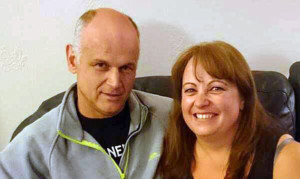 The Courier has unlocked the secret of a love affair which spans the Firth of Forth.
Paula Smith and Jim Morrison have stepped forward to reveal they are the couple who first lovingly vandalising the Forth Road Bridge and inspired a passionate new project.
It was only last weekend, when they revisited the bridge for the bikers' cavalcade crossing, that they thought their padlock, which Paula presented to Jim on Valentine's Day, had been removed.
Paula said: "I knew ours would have been cut off and when I saw the other locks I actually thought 'that's typical grumble, grumble they stopped ours and here's some others.
"I thought it had probably been chucked in a bin by now. And then I saw our one was there and burst into tears."
In fact Chris Waite, the communications manager at the bridge, had taken custody of the padlock since it was removed.
It had been sitting on his desk for six months and then placed with the other locks on the special panel.
For Paula, who saw the lovelock on an online auction site, it was a lovely touch.
"We were quite sneaky putting it on, we think, but are so touched at what the bridge staff did. I wanted to thank them."
Paula, who has been with Jim for three years, is proud of her small role in the romantic scheme.
"It is lovely, it is heartwarming and to think we could've been the first people to do it."