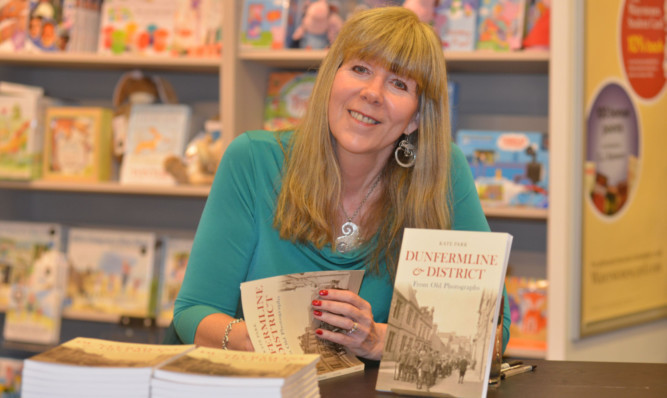 A new book about Dunfermline's history was released at a signing event on Saturday.
Author Kate Park was signing copies of Dunfermline and District from Old Photographs at Waterstones in Dunfermline.
The book features 200 unique and never-before-seen photos taken by Mrs Park's great-grandfather James Russell.
Mr Russell's camera captured key moments in the turn of the century around Dunfermline and wider Fife, including the arrival of 9th Kings Liverpool regiment in 1914 and images of the Grand Fleet anchored in the Forth in 1917 after being brought down from Scapa Flow.
Mrs Park said: "It's not just pictures, a lot of the information behind those pictures is of real interest.
"We haven't pulled any of these pictures from collections or archives. To the best of our knowledge, many of these pictures have never been seen before."
Mr Russell began taking photographs very early in the history of photography his collection dates back to at least 1880.
The collection was very nearly destroyed after his death, when it was left in a damp cellar and it was a 16-year-old, the mother of Mrs Park, who saved the stash of photos and negatives.
The collection consists of more than 800 negatives, which have all been printed and may feature in future books about the early photographic history of Fife.
Mr Russell was the brother-in-law of Sir George McCrae and his brother was the first man to be killed in Sir George McCrae's service battalion, when they saw action on the Western Front in the First World War.
Mrs Park said: "I've always been very involved with local history. This book felt like contributing a great resource to that effort.
"My great-grandfather first took up photography to help him with his painting; he liked fine art.
"He owned a shop on Abbots Street in Dunfermline. He did housepainting, as well as framing and sign painting and photography was his hobby."
Dunfermline and District From Old Photographs is available now and can be purchased at Waterstone's, as well as online retailers, from Amberley Publishing.