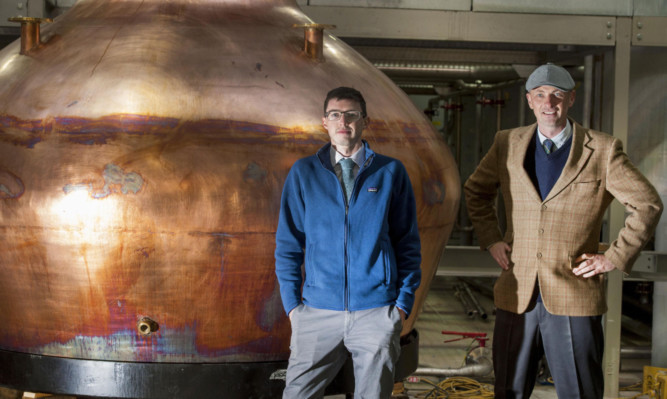 The final piece of the jigsaw has been put in place to create a long awaited Fife distillery.
The milestone was reached at the £3.5 million Kingsbarns Distillery with the arrival of massive hand-made copper pot whisky stills.
Both stills travelled to the East Neuk Distillery, which is due to open this December, from Rothes in Speyside where they were made by Forsyths of Rothes.
The wash still, weighing three-and-a-half tonnes and holding 7,500 litres, and the spirit still, weighing three tonnes and holding 4,500 litres, will both play an integral part in determining the light character of spirit produced at Kingsbarns.
Distillery founder and visitor centre manager Douglas Clement said the distillery and visitor centre had been a long time in the making six years, in fact.
"It's only been in the past two years, thanks to a Scottish Government grant and the backing of the Wemyss family, one of Scotland's oldest and most established family businesses, that has turned this dream into a reality," he added.
Construction work started in the spring of last year and the arrival and positioning of the stills in their new home was "hugely important" in the development.
Distillery manager Peter Holroyd added: "Now that we have reached the important date of our copper pot stills' arrival, we are well on our way to the final goal of producing Kingsbarns' unique, light, Lowland spirit."
The Wemyss family bought the Kingsbarns Distillery project in January last year.
Already owning Wemyss Malts, the family has a historical link with the site of the new Kingsbarns Distillery as the 7th Earl of Wemyss actually owned part of the Cambo Estate between 1759 and 1783.
The family is being supported in this development with a European Food Processing and Marketing grant via the Scottish Government for £670,000.
The new Kingsbarns Single Malt Scotch whisky will be classified in the Lowlands region and available after a minimum of three years' maturation in oak casks.
Fife-grown malted barley has been secured to make the spirit and it will be matured predominantly in ex-bourbon casks.