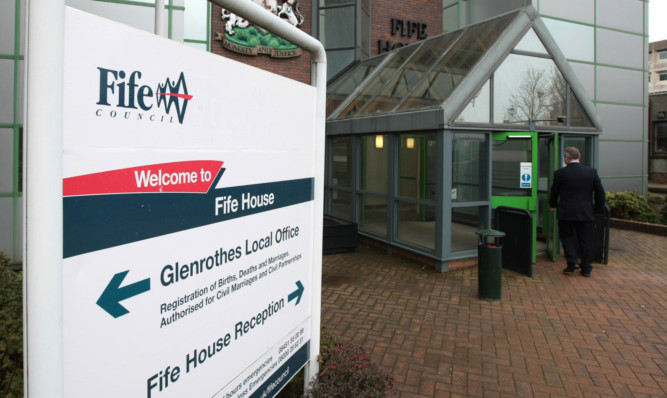 Fife Council's entire workforce could be hit with a pay cut of 1% under radical cost-saving measures being considered by council bosses, The Courier can reveal.
Further proposed changes to the terms and conditions of the council's 17,000+ employees include the withholding of sick pay for the first three days of absence and a reduction in the standard working week from 36 hours to 35 hours.
A reduction in pay for those working unsocial hours and overtime and a reduction to fixed public holidays is also on the table.
Other possibilities include the slashing of the business mileage rate paid to employees from 45p a mile to 35p a mile and reducing the excess travel rate from 23p a mile to 18p a mile.
A council insider told The Courier: "There would be a potential riot if they tried to implement all these things at once."
Fife Council leader Councillor David Ross emphasised these were just ideas at this stage and assured employees no decisions had been made yet.
The Courier has learned of the detailed options which have been identified by the council's human resources department as a means of potentially saving £2 million in 2016-17.
The savings, described as modernising employment practices, are being proposed in addition to the measures set out in the Fife Council Labour administration's draft budget published last week.
The council has put forward proposals for consultation which aim to plug a black hole of £77m from its budget over the next three years.
Mr Ross warned last week that up to 2,000 council jobs could be axed over the next three years, in addition to the 4,000 who have already left since 2010.
The council proposals, which reflect rising costs and increasing demand for services, range from larger class sizes to the imposition of music tuition fees and closure of some school kitchens.
Beyond the potential big-number savings being considered in areas ranging from education to transportation, there has so far been little detail of what is actually being proposed.
The draft budget is now open to public consultation, with the budget expected to be set in February.
Mr Ross said: "The council is facing its greatest financial challenge since it was set up in 1995 and we have tough choices ahead.
"We can't save the £77m we need by 2017-18 without it having an impact. Around half of the council's total expenditure is on staff costs. That's £501.2m.
"We have to consider ways to make savings from this whilst protecting jobs and services as far as possible and minimising impact on our lowest-paid employees.
"In our draft budget we've stated we want to save £2m in 2016-17 from modernising employment practices and council officers have put forward a range of ideas well in excess of £2m for consideration.
"We'd like to reassure staff that no decisions have been taken yet.
"Initial discussions have just begun with trade unions around these ideas and at this recent meeting we also reiterated our commitment to the council's lowest-paid workers.
"We will be writing and talking to staff to ask for their views and ideas about how we might be able to make changes.
"No decisions about employment practices can be taken without full and detailed consultation with staff this is a legislative requirement.
"This would begin if the £2m savings proposal is agreed as part of the final budget set in February."
Mr Ross added: "The list of ideas are just that, potential ideas for savings, not firm proposals. We might progress with some or none of these ideas.
"Most importantly we want to have a discussion about them with our staff and trade unions before any decisions are made.
"This discussion will take place through our established staff and trade union liaison forums and not through the local press."
Mr Ross said he had met personally with the council's trade unions and had been "up front with them" about the scale of the financial challenge being faced.
He added: "I have given an assurance that as far as possible we will try to minimise the impact on our staff but I have also been clear that it is inevitable that there will be an impact on staff.
"I have also asked the trade unions to join with the council in a campaign calling for vital local services to be properly funded by central government and I very much hope this is something we can work together on.
"We're asking everyone, including staff, for their views on the budget proposals before the final decision on next year's budget is taken in February.
"I urge everyone to take part in the consultation, which will be online from Monday."