Call for council ban on fracking in Fife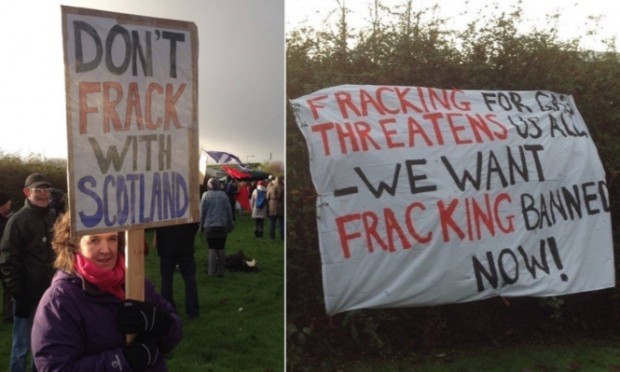 Fife Council has been urged to use its new local development plan to ban fracking in the region.
At the very least, it has been claimed, the local authority should implement a moratorium a temporary ban on unconventional gas extraction until the full impact on health is known.
The call from environmental charity Friends of the Earth Scotland came as campaigners against fracking and other forms of gas extraction demanded an extension to the council's six-week consultation on the issue.
Scottish Government guidance stipulates statutory consultations on complex issues can be increased to 12 weeks to give people a chance to properly formulate a response.
Concerned members of Frack Off Fife claimed the council's document had not been adequately advertised and said the public had not had enough time to lodge their objections before Monday's deadline, an allegation denied by the council.
A swathe of land across central Scotland, including Fife, has been identified by UK ministers for shale gas exploration and there are plans to extract gas from under the Firth of Forth.
While supporters claim fracking is a safe way of meeting the UK's energy needs, opponents fear it can cause carcinogenic chemicals to contaminate groundwater and say the drilling blights the countryside.
A petition against fracking in the Central Belt has so far attracted more than 49,000 signatures and a separate one against coal burning in the Firth of Forth has been signed by more than 2,500 people.
Dr Richard Dixon, director of Friends of the Earth Scotland, said: "There is a growing body of evidence that environmental and health risks associated with onshore unconventional gas extraction, including coalbed methane, are inherent and impossible to eliminate.
"There is also alarming evidence about the potentially devastating public health impacts for communities living in and near gas fields. Communities living near gas fields in Australia complain of respiratory problems, rashes and irritated eyes.
"While ultimately we think a ban is the only way to ensure our communities and environment do not suffer the adverse consequences of the industry, we believe a moratorium could be a next-best action for Fife Council."
Meanwhile, Frack Off Fife is lobbying the council for a two-week extension to the consultation on its development plan, FIFEplan.
It claims people were unaware comments were being sought on unconventional gas extraction. Administrator Audrey Egan encouraged as many people as possible, through the Frack Off Fife Facebook page, to respond but many ran out of time.
"According to regulations it should be possible to grant an extension of another six weeks, taking us up to January 19," she said.
"The grounds for this are there was not sufficient coverage of the public notice."